Ettore Spalletti's pastel paean to the shores of Pescara
The 79-year-old Italian artist takes up residence in Monaco's Villa Paloma with a serene retrospective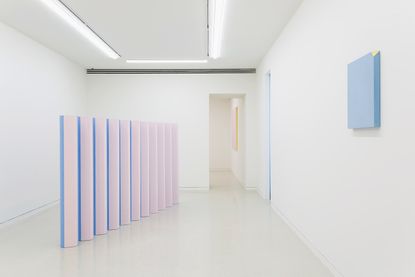 (Image credit: Werner Hannappel)
Ettore Spalletti has spent his life looking at the sea. From his home and studio in the province of Pescara on the Adriatic coast of Abruzzo, he has made a long and prolific career out watching the subtle changes in light each day as the sun crests over the shoreline and sinks below the Apennine mountain range to the west. Spalletti has always been somewhat of an outlier in the story of 20th-century Italian art.

The now 79-year old has worked from Cappelle sul Tavo his entire life, eschewing the more typical artistic gathering places of Florence, Rome or Milan to work in solitude. For his latest exhibition, 'Ombre d'Azur, transparency', he has skipped over the hubs and the capitals to land on another shoreline, overlooking the Tyrrhenian Sea at the Nouveau Musée National de Monaco's Villa Paloma.

'Creating a show of Spalletti's was a boyhood dream,' explains Cristiano Raimondi, curator of Nouveau Musée National de Monaco, 'I always had it in my head that the villa would be an ideal place to stage his work. The coast and the light fit so perfectly with his sculptures and paintings.' To accompany the show, director Alessandra Galletta produced a documentary detailing Spalletti's life and work, which is shown on a loop in a screening room and provides a previously unseen look into the artist's meditative process and quiet life.
Within the light-filled gallery, Raimondi has installed 40 or so of Spalletti's pieces. 'This started as a simple retrospective exhibition,' Raimondi explains of the curation, 'but when Ettore saw the rooms he was so taken with the light and the view of the sea that he changed the show to respond to the space. When he sees a shadow or a change of light, he suddenly wants to produce something new.'

Paintings and sculptures were created in Spalletti's signature subtle shades of blue, grey and pink, each rendered in almost imperceptible variations, as if a single colour were manipulated by changing light or shadow. A sort of soft-focus patina is found on the skin of his pieces, an effect achieved by applying a coloured paste to the canvas or sculpture's wooden surface and buffing it down once dried, a practice repeated over and over until the shade and tone are exactly right. Panels painted in progressive shades, clusters of pale columns and bisected canvases that make discreet references to the shoreline outside were installed within the brightly-lit rooms.

Though the pieces included in the exhibition date from various point in Spalletti's career, the final work, which visitors reach after snaking through the museum's three floors, is entirely new. Composed of three model bookshelves in pink, blue and grey, Spalletti describes it as a tribute to the three things literature has given him in his life: 'good manners, a quiet voice and a light step'.
INFORMATION
'Ombre d'azur, transparence' is on view until 3 November. For more information, visit the Nouveau Musée National de Monaco website
ADDRESS
Villa Paloma
56 Boulevard du Jardin Exotique
98000 Monaco
Laura May Todd is a Canadian-born, Milan-based journalist covering design, architecture and style. In addition to the Italian dispatches she writes for Wallpaper*, she regularly contributes to a range of international publications, including T: The New York Times Style Magazine, Architectural Digest, Elle Decor, Azure and Sight Unseen. Prior to her work as a journalist, she was assistant editor at London-based publishing house Phaidon Press.