Alexander McQueen S/S 2019 Paris Fashion Week Women's
For spring, Sarah Burton erects a mystical showset evoking England's Avebury henge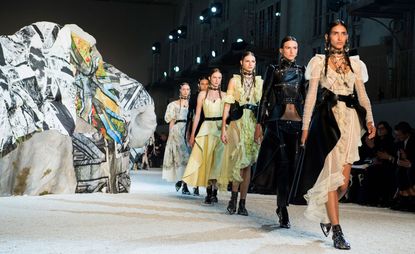 (Image credit: Jason Lloyd-Evans)
Scene setting: After a couple of seasons trying her hand at showing in different venues (last season's show took place in the Carreau du Temple at the heart of the Marais), Sarah Burton was back this time to her beloved Orangerie in the Jardin du Luxembourg. Turns out the tall-ceilinged greenhouse building, surrounded by the park's greenery, was the perfect setting for the designer's latest outing. Inside, guests discovered a monolith reproduction of the Neolithic Avebury henge. Less known – and less touristy – than Stonehenge, the Wiltshire circle, with its shorter, rounder stones, is widely thought by archaeologists to reference femininity. It is also considered a place of religious importance by contemporary pagans. It was there that Sarah Burton's inspiration for her latest collection began.
Soundbite: 'I was thinking about sisterhood, about traditional women's milestones and rituals: births, christenings, weddings, funerals. It's about being strong and emotional, but also saying it's ok to show your vulnerability; not to have to put a brave face on it,' explained Sarah Burton backstage after the show. In a week when – while designers were celebrating the feminine form in Paris –- the Kavanaugh hearings have been the main talking point in the news and among the fashion pack, one would not be blamed for wondering whether the #MeToo movement was, after all, of any real consequence. Burton's reminder of the power of the feminine mystique could not have come at a better time.
Best in show: The clothes explored the theme through a historical lens: Burton and her team got out of the studio and into vintage markets to purchase a selection of Victorian wedding gowns and christening tunics, reimagining their broderie anglaise on asymmetrical dresses worn over buster trousers. They were combined with consistent leather pieces in black, white and red, sometimes embroidered with roses. Flowers were actually powerfully present all throughout the collection as prints – inspired, of course, by English gardens – and to counterpoint them was the simple grey and black tailoring. The most magical-infused looks, though, came towards the end: the evening gowns including chiffon, golden lace and leather corsets gave the models undeniable druidess vibes… and managed to somewhat restore our faith in the feminine mystic.