Prada S/S 2019 Milan Fashion Week Women's
The Italian label collaborates with three female architects for the second iteration of its 'Invites' project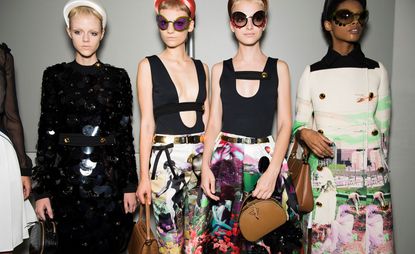 (Image credit: Jason Lloyd-Evans)
Scene setting: In recent seasons, Prada (opens in new tab) has switched up its usual HQ location space in favour of different presentation areas around its art museum. Take last season's show, which was held over different levels at the Prada (opens in new tab) Fondazione's yet-to-open Rem Koolhaas-designed Torre space. Its S/S 2019 show took place in a cavernous newly conceived performance space, and like Prada (opens in new tab)'s menswear show in June, guests sat on recommissioned inflatable stools, originally conceived in the 1960s by Danish designer Verner Panton. They lent a lightness and buoyancy to the uplifting show to follow.
Mood board: The look for S/S 2019 was anarchic and perverse, pretty and poised; that idiosyncratic blend of contrasts that has kept Prada (opens in new tab) at the top of its game of intellectual and hard-to-unpack fashion. Models stomped the catwalk to a blaring trance soundtrack in city shorts and sporty technical knit wedges, plunging tops and knee-high socks. There were babydoll dresses in signature nylon, bubble sole creeper shoes and bow-detail cocoon coats. Youthful tie-dye prints in ugly shades were emblazoned on mini dresses and shorts and acted in rebellious contrast to the more tongue-in-cheek bourgeois shapes on display, like gold button coats, doctor's bags and pleated tennis skirts. In the protest days of Mrs Prada (opens in new tab)'s youth, she recalled marching in Saint Laurent (opens in new tab). These clothes had a subversive take on chic, one enhanced by each model sporting a padded headband – some embellished and bow-detail, others covered in studs.
Team work: In recent months Prada (opens in new tab) has been making the most of its nylon heritage. Earlier this month it relaunched its nylon-heavy Linea Rossa (opens in new tab) line, which was a sportswear staple in the 1990s. For it's A/W 2018 men's collection, it also showcased the first iteration of its 'Invites' project, which saw four renowned designers (Ronan and Erwan Bouroullec, Konstantin Grcic, Herzog & De Meuron, and Rem Koolhaas) design a piece in its signature synthetic fabric.

Prada (opens in new tab)'s S/S 2019 women's show saw the second iteration of this project, with three leading female architects, Cini Boeri, Elizabeth Diller and Kazuyo Sejima stepping into the collaborative role. Boeri created a flap-detail nylon shoulder bag with removable modules, and an appearance 'as clean, as sober as possible, resulting from the seat of functional elements that compose it'. Diller designed a garment bag that doubles up as a buckled raincoat, described as a 'utilised piece of luggage,' while Sejima conceived a modular bag with colourful padded details inspired by inflatable rubber rings and flowers.