Kenzo La Collection Memento S/S 2018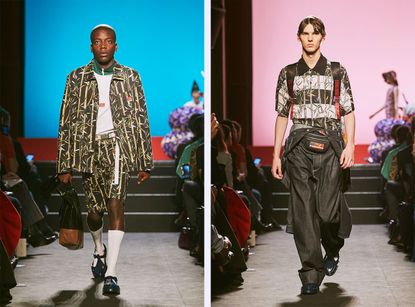 (Image credit: Press)
Mood board: The cleverest thing a brand like Kenzo could do at this point in its evolution – and that of a quickly growing Millennial audience – is pay homage to its original creator. And that's exactly what Humberto Leon and Carol Lim are doing with Memento, a way to rework and reinterpret Kenzō Takada's rich heritage. Last night marked their second foray into the project, and they did it in style, exploring the way Takada first played with denim in the 1970s. Backstage, Leon explained that 30 per cent of the clothes were directly sourced from the brand's archive, from the workwear-inspired indigo jeans to the overalls. It was impressive how modern they looked paired with jelly shoes, bamboo-prited shirts and mini-backpacks. The result was a playful collection full of useful pieces that will no doubt find ther way into Millennial (maybe also not so Millennial) wardrobes.

Scene setting: That the second Memento collection would be shown in style, no one doubted. But nobody quite expected the scenery they found upon arriving to the Trianon in Pigalle – sake barrels, a very kawaii Japanese band playing, and food stands distributing tempura, onigiri and mochi, all bathed in red and purple lights. It was, of course, the wizard work of Etienne Russo. Guests got to relax after a long day full of fashion shows, and the apéritif got them in the perfect mood for the show.

Team work: There was no runway per se. Instead, there was a stage and a red velvet curtain – the fashion was merged with a kagura performance (a traditional dance dedicated to the shinto gods) by the Hiroshima Kagura group. Dragons and a warrior fought as live music played in the background. As the traditional story goes, Susanoo, the god of storms, descends to Earth to slay an eight-tailed dragon and release mankind from its reign of terror. It was, as Leon said backstage, a story of past and present, aesthetically and politically speaking. The always creative way in which the American duo never miss a chance to comment on politics is one of the reasons why we love them. The opportunity they are now giving us to relive (and re-wear) Kenzo's vast archives is the other.