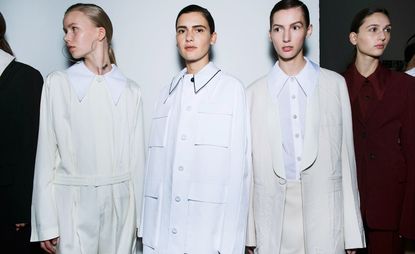 (Image credit: Jason Lloyd-Evans)
Mood board: Joseph creative director Louise Trotter was looking at uniforms for S/S 2018, considering both their restrictions and codes, and reinterpreting them for the modern women. There were minimalist tan leather coats, with collars cut at the back of the neck like Brownies scarves, or black thigh-skimming coats layered with wide collared white shirts, riffing on chambermaid outfits, and the Wall Street-inspired trench coats, worn backwards with their sleeves trailing down the back. Trotter was also inspired by the concept of packing, and unrolling wrinkled outfits from suitcases while on holiday. There were city suits with visible creases, purposely crinkled shirt dresses, and transparent fabrics that revealed knickers. While Trotter may have been exploring the concepts of uniform, these were all pieces we'd want to wear, compulsory or not.

Best in show: A nude leather dress slashed to the navel was beautiful in its simplicity. A fleshy silk shirt with wide lapels and large chest pockets was a luxurious take on Desert Rat garb, and had us standing to attention.

Team work: Joseph collaborated with emerging jewellery label Aligheri on a pair of oversized silver hoops and a molten medallion pendant which hung on a double banded choker. Founded in 2014 by Rosh Mahtani, the brand – as its name alludes to – takes inspiration from Dante's Divine Comedy; its melted down coin pieces have become a strong signature.