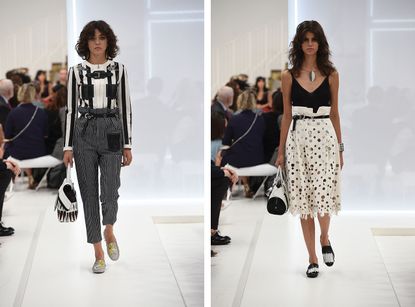 (Image credit: press)
Mood board: Tod's creative director Alessandra Facchinetti cut crisp shapes this season, using men's shirting and the brand's signature leather as lynchpins for her spring collection. Striping was a key theme, going from miniscule, neat navy pinstripes and exploding into bolder umbrella stripes in vertical forms on square leather jackets.

Best in show: When Facchinetti kept her silhouettes simple, the clothes came into focus with striking effect. On the minimal side of that equation was an excellent pair of voluminous indigo blue cotton pants with a matching blue shrunken bomber jacket. On the more decorative note: perfect leather circle skirts that were pierced in a smattering of tiny holes and studs creating graphic - almost tribal - slashes that were effortlessly ornate.

Finishing touches: The footwear this season was simply striking. Facchinetti took Tod's signature driving shoe and pierced the heck out of it, adding micro silver studding and macro silver buckles. She also covered it in pinstripes or slick silver leather, and morphed it from a loafer shape into a more streamlined slip-on shoe. Those, together with the perforated studded leather slides were undeniable covetable.