Gabriele Colangelo S/S 2016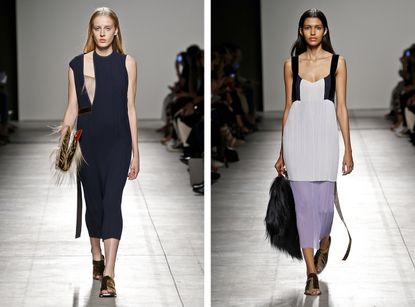 (Image credit: Gabriele Colangelo)
Mood board: Gabriele Colangelo name checked the artist Scott Bergey fused with a subtle primitivism as the influencers of his spring collection. However, the latter was so light as to be barely perceived, apart from a few hairy fibered dresses made from overlapping bands of African Kente fabric. Colangelo's main pursuit is the cutting of clean, architectural clothing that this season took a drop to an ever-popular 3/4 leg silhouette.

Best in show: Colangelo worked extensively in exaggerated silk plisse. His best pieces took the material and made new colour blocked formations from uneven layers or collage-like details of rich velvet ribbon straps.

Finishing touches: Kidassia fur – which is as long and blonde as most actresses' heads in Hollywood – made for some intriguing accessories this season. Colangelo cut the fur as tufts on open-toed mule shoes and covered the entire body of flat square bags that were held up by long thin leather cords.