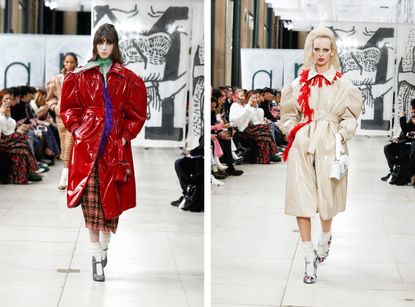 (Image credit: press)
Mood board: Millennials seem to be the Achilles heel of fashion these days. After years, nay, decades of living in splendid isolation, luxury brands have had an abrupt awakening in a world of e-tailers and direct-to-consumer apps: Snapchat, Instagram and Vine. And so started a desperate bid for the attention of the information-overloaded millennial customer which, so far, has produced mixed results and, is perhaps, too little too late. But today, Miuccia Prada decided the moment had come to harness all the millennial energy into one single show. And she brought out the big guns. Namely, quirky millennial heartthrobs like Paul Dano and Zoe Kazan and stars of Stranger Things in the front row. But that was far from all, as we were soon to find out.

Team work: The show started with enthused screams and whistling which, needless to say, is unusual. The reason? Opening, and clad in a thick, taupe woollen coat and flat biker boots, was Elle Fanning, Dakota's 19-year-old sister and the star of – among others – Sofia Coppola's 2017 film, The Beguiled. A catwalk debut for her, although she has a longtime relationship with the brand, having starred in both its S/S 2014 and S/S 2017 campaigns, she's a sort of gen-z answer to Chlöe Sevigny in the late Nineties.

Best in show: Yes, the inspiration was retro, but such that is irresistibly appealing to teenagers currently obsessed with Stranger Things and roaming charity shops in search for the perfect oversized Eighties leather jacket. There were campy echoes of John Waters' 1974 film Female Trouble, but also of masterpieces of the Eighties, teenage movies like The Breakfast Club, with a dash of rockabilly thrown in for good measure. Models including Kiki Willems, Slick Woods, Adwoa Aboah and Lily McMenamy marched to the rocky sounds of Devo's music, wearing every staple of a high schooler's wardrobe, from acid washed denim ensembles to puffy-sleeved jackets and coats, colourful leather mini dresses and sexy pencil skirts. Even the palette was unapologetically Eighties, as if it had been taken from a Memphis furniture catalogue. Was the collection nostalgic? Not in its actual pieces, which were decidedly modern reinterpretations. But the show in itself couldn't help but make us somewhat nostalgic of a simpler, funnier, technology free time.