Louis Vuitton A/W 2020 Paris Fashion Week Women's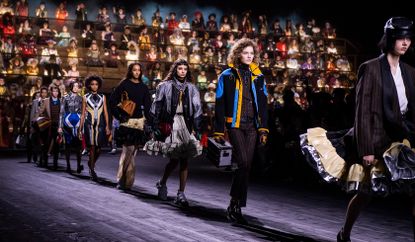 (Image credit: Jason Lloyd-Evans)
Scene setting: Last week, Louis Vuitton creative director Nicolas Ghesquière attended a press conference at the Musée d'Orsay, and mused on the subject matter of the Met Musuem's upcoming Time: Fashion and Duration exhibition, of which the Parisian label is sponsoring. Ghesquière has always taken a historicist approach to design. At Vuitton, his collections zip between futuristic and period themes: his obsession was evoked in Vuitton's A/W 2020 show, set on the grounds of the Louvre Museum. As the show began, a curtain at the head of the catwalk was pulled back, revealing a tiered wooden seating seen in old theatres. Lining the rows were singers clad in ostentatious historical costumes — like male musketeers and elizabethan women wearing hats erupting with ostrich feathers. As models entered the runway, the historic onlookers began singing a choric symphony, serenading those clad in ensembles of the future.

Mood board: The collection was a trippy traverse through time, with models sporting romantic ruffled petticoats paired with sporty colour blocked ski jackets and pinstripe tailoring in the house's signature monogram browns. Motocross pants were teamed with brocade Matador jackets and lace print leather skirts with satin bomber jackets. The silhouette was futuristic and fierce, paired with pointed cowboy boots and biking gloves, Ghesquière's girls confronting the future with fashionable force.

Team work: Ghesquière teamed up with renowned costume designer Milena Canonero, who won an Oscar in 2007 for her work on Marie Antoinette. Her costumed figures — sporting garments spanning the 15th century to 1950 — were sublimely clad spectators to take in the show.