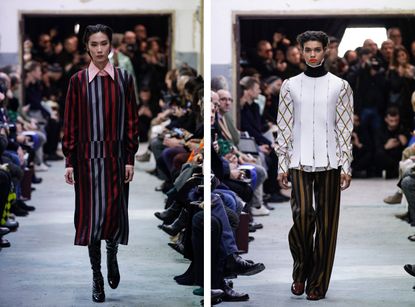 (Image credit: press)
Mood board: From artist Heinz Stangl to Franz Schubert's twinkling compositions, Arthur Arbesser often looks to his Viennese heritage for inspiration. The designer, who honed his teeth working under Giorgio Armani and launched his own label in 2015, fuses the fields of art and fashion in his designs, resulting in bright and imaginative prints and silhouettes that nod to Memphis or Blinky Palermo. For A/W 2018, Arbesser looked to Koloman Moser for inspiration, the Austrian artist who was part of the Vienna succession, and is renowned for his graphic and poster art style. This meant gently swishing viscose dresses in grid or stripe prints (an Arbesser signature), skinny layered knits with shimmering metallic threads, shiny trench coats and A-line skirts paired with patent knee high boots, all inspired by Moser's designs for blown glass, ceramics and carpets.

Best in show: Arbesser revived a Moser dot and stripe print from 1902, developed in wool and silk jacquard and imagined in tobacco and black, red and grey, and printed on shirts and oversized jackets. Elsewhere, a series of gently puffing dresses and shirt dresses boasted painterly brushstroke prints, depicting tropical animals and flowers.

Team work: Arbesser teamed up with friend and jeweller Nathalie Jean, the former architect whose creations often take cues from interior design. Jean created a series of graphic earrings in bronze and hand-cut green quartz, which dangled from the ears, and nodded to the geometric shapes and colours of Viennese modernism.