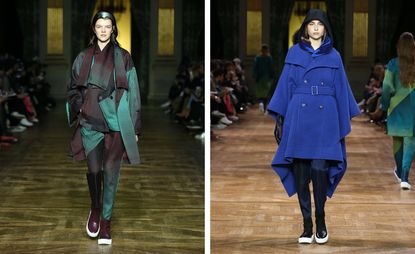 (Image credit: press)
Scene setting: With its cherubs, opulent gilding and giant chandeliers, the neo-Renaissance Hôtel de Ville played host to Issey Miyake's A/W 2017 show, an intriguing venue choice for a house long associated with modern technique. As the show began, block-coloured red and yellow lights illuminated the balcony above, where the sound artist Ei Wada stood with a transmitter and two CRT televisions, skilfully manipulating radio frequencies to form a live soundtrack to the show.

Mood board: Creative director Yoshiyuki Miyamae drew inspiration from the ethereal colours created by Aurora Borealis for his opening ten looks: a coat in the first section being created from a single thread that had been dyed in five colours. Continuing the house's 'Pleats Please' legacy, Miyamae developed a technique called 'Bake Stretch', printing glue on fabric to create pleats. Skirts bounced like springs on the runway; coats were cocooning and oversized; and a series of looks at the climax boasted oversized scalloped details, which when featured on the backs of models resembled knobby dinosaur-like spines.

Team work: Issey Miyake teamed up once again with the Dutch shoe label United Nude, kitting models out in bootie trainers with white corrugated soles, and ankle strap flats with chamelon-like soles that change colour from different angles.