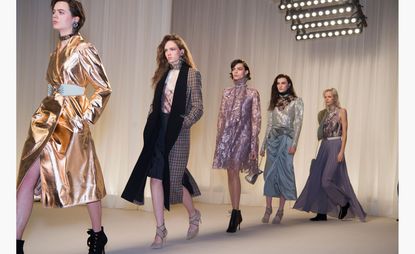 (Image credit: Jason Lloyd-Evans)
Lanvin: There was plenty of late Eighties shimmer sprinkled over Lanvin's first show after Alber Elbaz's exit, now overseen by Chloé alumna Chemena Kamali, but when the gold dust settled, there was no denying that the magic was somewhat missing. Sure, the ruffles were there, but they'd lost their architectural flourish, the lace came over more period than posh and the tweeds a little dusty. Of course, it's very early days for Kamali, and one man's 13-year legacy takes time to reshape, even if the fashion world loves a fast turnaround.

Best in show: A rich midnight blue cocktail dress with frills that circled the body in a familiar asymmetric fashion and a black patent mac brought a good dose of drama to this show.

Finishing touches: Elaborate chandelier earrings (some of which reached the collarbone) and jewelled chokers finished the collection's Dynasty dalliance. Their presence was reassuring, given that Elie Top's costume jewellery tenure at Lanvin has been so closely linked to Elbaz.