Comme des Garçons A/W 2016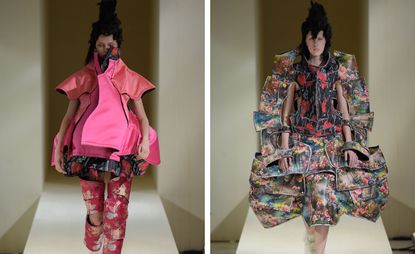 (Image credit: press)
Mood board: What was on Rei Kawakubo's inspiration this season was anyone's guess as what came down her runway seemed unconnected with anything already created. That's the beauty of a Comme show: you've got walking 3D sculptures made from pieces of deconstructed sports gear (knee braces, elbow pads etc), blown up silhouette forms that resemble human boats or at least children in their rubber ducky rafts and magical balloons of fabric that have been reinforced with hefty silver snaps.

Best in show: There was a new femininity in this show which allowed a softer palette of pastels and vibrant pinks to do battle – and win – against Kawakubo's preferred armor of all black. Best of all this season were the magnificent brocades and lush floral prints that gave a new exuberance to her remarkable creations.

Finishing touches: They could not be called hats but some of the women's garments covered the entire head so as to create walking human igloos made from magnificent tapestry fabrics. Also noteworthy? The fuzzy bunny pink lace-up tennis shoes, which gave a domestic twist to the wild art up above.