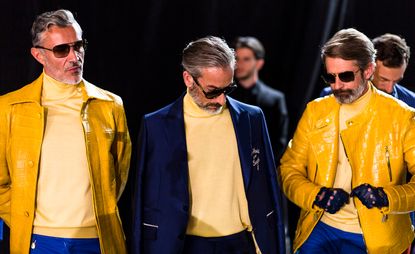 (Image credit: Jason Lloyd-Evans)
Scene setting: It's been a busy week for Phillipp Plein. During Milan Fashion Week, the German designer, famed for his elaborate runway sets, has staged a Grease themed runway show for his eponymous line, boasting with a procession of two-wheeling cars, and couple of of motorbikes speeding through flames thrown in for good measure. Not forgetting his second Plein Sport show, complete with cage fighters, and women performing aerobic routines on disco ball-topped poles. The Philipp Plein Group acquired Billionaire last year, and topping the gold helicopter that sat on its runway last season, for S/S 2018, the soundtrack for the brand's show was provided by a live female performer crooning James Bond theme tunes.

Mood board: As is clear from the name of the brand, the Billionaire aesthetic is not for your average Joe. The brand's James Bond theme filtered into its ostentatious S/S 2018 wardrobe, designed to take its customer from the beach club to the casino (surely his most suited habitat). Colours inspired by jettsetting tropical plains came in azure ostrich or orange snakeskin bomber jackets, trench coats in fuchsia crocodile, complemented with tuxedo jackets in shimmering black sequins. Suits were double breasted or in louche silk jacquard, and beach shorts were paired with polo necks, the outfit of a businessman whose private jet has travelled from chillier climes straight to a white sanded beach.

Best in show: A more paired back take on pizzazz, a double breasted grey pinstripe suit was paired with a mint green polo-neck, the outfit of one of Billionaire's more bashful self-made men.