Charles Jeffrey LOVERBOY A/W 2018
Scottish rage informed the brand's theatrical and hyperbolic catwalk performance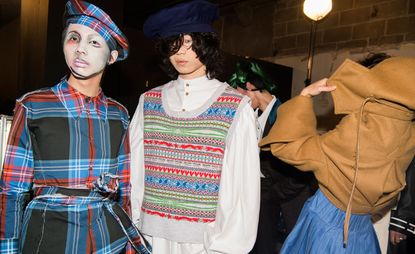 (Image credit: Jason Lloyd-Evans)
Scene setting: Thanks to the performative aspects of Charles Jeffrey LOVERBOY's shows – the product of a continued collaboration with the choreographer Theo Adams – and the joyful, historical and encyclopaedia-worthy range of references in his collections, the brand's runway presentations have become some of the most hotly tipped and anticipated of the London menswear schedule. As guests outside the show speculated about what was in store as part of the label's A/W 2018 offering, they could never have expected the wondrous burst of energy and imagination that acted as the finale to the third day of London Fashion Week Men's. As expectant showgoers took their seats, a host of ghoulish figures appeared in droves on the catwalk, screaming and wailing and hot-stepping across the dark and spooky space. As the show began, these spectres took seats on garden chairs, cackling and swigging from bottles. Drummer Ollie Smart began animatedly pounding the beat of the The Prodigy's 'Firestarter', huge figures inflated and began drifting along the catwalk, and Charles Jeffrey LOVERBOY's magical mix of models took the runway.
Mood board: 2017 was a wonderful year for Charles Jeffrey. Last November, the designer presented his first art exhibition in London's Greenwich and last December he was awarded the Emerging Menswear Designer Award gong at the Fashion Awards. For A/W 2018, Jeffrey took some time to reflect on his mammoth year, looking back to his native Scotland and his hometown of Glasgow. Instead of finding calm and serenity, Jeffrey found angst and rage, culminating in a collection titled 'Tantrum'. In particular, he channelled anger against the myth of gay confidence created around flamboyance: the creation of louche, dandyish personas as a form of creative and physical protection. This rage was not one that saw red. Rather, it saw anger in technicolour, resulting in a collection of extreme looks: inflated and exaggerated forms inspired by Claes Oldenburg, military silhouettes, tattered Elizabethan doublets, pirate-stripe knits, Teddy Boy suits and illustrated clingy tops, all paired with warpaint, colourful wigs and a wonderful senses of rebellion.
Best in show: The genius in Jeffrey's collections is that, while theatrical and hyperbolic, they also showcase clothes that are expertly cut and wearable, like a leather jacket with swirling 3D details, a tartan two-piece, a chunky zip-detail boot, or a navy wide-collared coat with delicate double button detail. We can't think of a better way to showcase them than by using performance, a frenetic Big Beat soundtrack and lashings of face paint. When fashion has become so focused on number crunching, social media and constraints within an outdated system, Charles Jeffrey LOVERBOY is here to prove that clothes can be truly captivating and a runway show can cause endless drama and excitement.