Fendi A/W 2017
Slogans and sumptuous furs take centre stage on the catwalk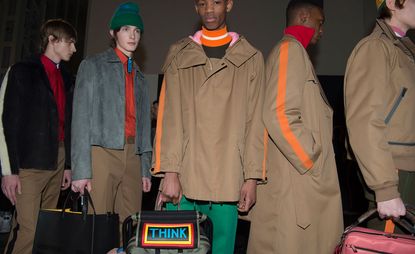 (Image credit: Jason Lloyd-Evans)
Mood board: There was a hint of quirk crawling across the Fendi men's runway this season, as models stomped out in the classic Royal Tenenbaums combination of full length fine mink coats and colourful fuzzy headgear. The kookiness did not stop there- candy pinks, grass green and tangerine orange popped out amongst the drab browns and mossy greens, creating a playground of light leisurewear and jazzed up accessories.

Best in show: Though we enjoyed the boyish slacks and nylon sleeping bag pants paired with boardroom jackets, the highlight of this show centered on Fendi's bread and butter: its dazzling fur. Leopard spots sprung up on printed pony coats while preppy stripes detailed mink coats. The best piece was an oversized shaved mink coat that looked like a logo set of colourful tiles, all stacked one on top of the other into vertical towers.

Finishing touches: Fendi was spelled out loud and clear on this season's accessories, across boxy handbags, on shearling flip flops worn with socks and even on the back of a shaved head in yellow script. The words 'THINK FENDI' even popped up on a foldable camping chair. Meanwhile, the Roman brand's famous bug made his way onto the eyes of a pink shearling sleeping mask, while hard core surfing booties came in neoprene with saucy neon orange rugged soles.