Dover Street Market brings 'beautiful chaos' to Los Angeles Arts District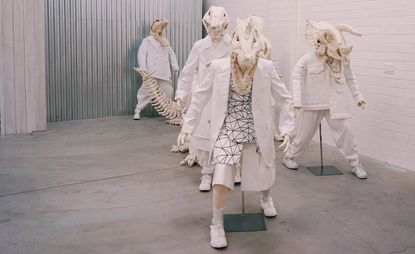 (Image credit: Pia Riverola)
The gritty, industrial and transitional Los Angeles Arts District has become the home for the first West Coast Dover Street Market and the 6th outpost by the brand. The collective community of avant-garde designers and artists that make up each unique space from London to Singapore, include the pillar conceptual, anti-establishment fashion brand Comme des Garçons conceived by creative director Rei Kawakubo, who runs the company with her husband and president, Adrian Joffe.

The entire Dover Street Market Los Angeles interior – spanning 19,500 sq ft – has been designed by Kawakubo including all Comme des Garçons brand spaces, common areas, and architectural features, which is engulfed in an all-white tile wraparound façade, spanning across two ground-level buildings. A duo of trans-lateral huts pierces the dividing wall between the two structures, comprised of corrugated scrap metal sheets with different textures. For the LA design, Kawakubo was inspired by the sunshine and natural elements and didn't want the space to be too colourful, but let the contents and light take centre stage.

With artworks and installations incorporated into cutting-edge fashion, Joffe is most interested in the synergistic energy that you get from a diverse grouping all in the same space and, as with all Dover Street Markets, the reigning theme is 'beautiful chaos'. 'The DNA has to be the same across the brand,' and according to Joffe, 'we like mixing things up and giving the chance for accidents to happen. Streetwear brands next to luxury brands and what type of feeling that creates. It's a community of like-minded people who have vision and something to say.'
The collections are conceived with the surrounding environments in mind. The front entrance is filled with jewellery cases and a Cindy Sherman photograph of a women wearing pearls that is seemingly watching over the bounty by a mix of Japanese, Brazilian, European and American jewellers. Local Sophie Buhai's minimalist pieces in silver and gold are alongside charms by Annoushka x The Vampire's Wife, and Ana Khouri, who has given her newest Paris designs in 18-ct fairtrade gold exclusively to the LA store. Across the room, you can peruse Gucci's watch collaboration with LA artist Wes Lang and Jonas Wood's piece for Bamford.

'California has always been a birthplace of new ideas,' says Joffe. Like the previous DSM outposts, every six months the doors close for several days for switching out the products and reinstallation. Just like the evolving breads and cakes, at the signature DSM Rose Bakery, the rebirth gives customers a sense of discovery when they come back.

There are no windows facing the street but there are two event spaces near the front and back entrances, where artists will be regularly commissioned to create in-store installations. For the opening, the front rotating space includes a pocket shelf shop surrounded by black and white plexiglass dotted displays and graphics by artist Jordan Wolfson, next to Pat McGrath x The MET flanked with gold chains and makeup, and Eli Russell Linnetz who has done both a CDG campaign for Andy Warhol perfume and a collaboration with Nike.
There are many additional 'firsts' for this location including Chanel fine jewelry and the debut Los Angeles retail spaces for Nikelab, Noah from New York and cult streetwear brand Palace.

DSM favourites also return, including Brain Dead who creates live fashion with spell-your-own message letters on Velcro T-shirts, plus the 18th collection of tulle dresses with leather and faux fur from Noir Kei Ninomiya (who studied under Rei Kawakubo).

UK milliner Stephen Jones feels there has always been a big clientele here for the brand and his signature dramatic black hats are displayed on a pile of tiny white wooden chairs, 'It's like two worlds colliding. DSM is like home for me in any city and LA is like my second home.'

IDEA Books co-founder David Owen is also excited about being in Los Angeles. 'We already have a big online customer base but it makes a big difference to have something physical in the city.'

London-based Charles Jeffrey presented five very colourful, furry ghoul-like sculptures which are also showcased at DSMNY as a part of Frieze Art Fair. 'The LA fashion scene has a very underground aesthetic still, which seems to contradict how connected people are these days. The vastness of LA feels slightly odd, but I'm fascinated. I can't wait to see Avi Gold's work in person, those t-shirts look wicked.'

Toronto-based Avi Gold's kiosk is a micro version of his store, one that is already creating a buzz for its cheeky depictions on t-shirts of the characters from Martin Scorsese's Goodfellas. 'I wanted to give myself and my friends, who are all basically artists, a platform to showcase what we do and make things fun and exciting again and bring something new to the table.'
In keeping with that theme, DSMLA has also worked with six international artists on a series of chandeliers that are dotted throughout the space. Warren Muller, Björn Dahlem, Yuichi Higashionna, have existing pieces on display while Lyn Dillin, Gary Card and Stuart Haygarth have made bespoke pieces for the project. Several of the chandeliers encapsulate an underlying theme of the current environmental impact on our oceans and recycling found objects.

The front entrance bears a bold black monochromatic chandelier by Haygarth who was sourced black plastic beach objects found on the UK coastline over a six-month period, giving them new life along with a human connection. 'These spaces make the shopping experience unique and exciting, almost akin to strolling through an inspirational art gallery,' he says. 'My work creates harmony from chaos, bringing together families of objects and producing order. In this case, the mass of black objects forms together to create a sinister floating UFO, highlighting the dark nature of plastic waste found in the oceans of the world.'

Sonoma-based artist Lyn Dillin's ethereal Chjellydelier, 'used trash and waste and things nobody thinks are important – what I call road kill – smashed spectacles, broken tools, squashed cans, cracked compasses, animal bones, salt-hardened seaweed, and combined them with poems I wrote and printed on transparent plastic and stuffed into glass bottles and test tubes.' Dillin was also inspired by Kawakubo's fierce adherence to her own vision. 'It was encouraging to create with no interference or guidance. I was free to follow my heart to build something that was meaningful, beautiful and strange.'

The diverse chandeliers dangle over a varied mix of camo bomber jackets, Adidas blazers, checked overcoats from Raf Simons and opera length PVC gloves. Nearby, a staggering variety of sneakers are displayed on a shiny gold center island a few racks away from hot pink backpacks and red patent leather dresses. The designers run the gamut from Creatures of The Wind, The Row, Balenciaga, Junya Watanabe, Kiko Kostadinov, Prada, Noon Goons and Rick Owens. For more casual unisex wear, t-shirt brands include Dreamland, Expert Horror and Fucking Awesome, among dozens of others.

'The customer is getting more and more individual and understanding what we are trying to say,' says Joffe. 'At first people didn't understand who we were appealing to. It was a struggle. Now there is a better understanding 14 years later of what we are doing.'

'It's all about that connection and we always like to connect with the local community in the best way that we can. In LA it seemed even more important. California has a real community feeling,' says Joffe.

As for the future of the brand, one day Joffe would like to open in Paris where he has lived for decades. 'And, there we stop,' he says. 'We are not going to take over the world.'
INFORMATION
For more information, visit the Dover Street Market Los Angeles website
ADDRESS
606-608 Imperial Street
Los Angeles
CA 90021
Receive our daily digest of inspiration, escapism and design stories from around the world direct to your inbox