Home sweet home: Dover Street Market opens arresting new Haymarket hub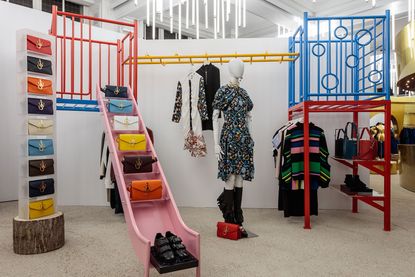 (Image credit: Dover Street Market's )
Taking on a 31,000 sq ft Grade II listed building located south of Piccadilly – in an area not known for its fashion footfall – might seem a retail blunder for some. Yet for Adrian Joffe, president of Comme des Garçons and Dover Street Market, the opportunity shone like a beacon.

'People's expectations rise and you have to rise with them. The question is how do we make DSM even more surprising and create something that you don't expect?' The former Burberry HQ (vacated in 2007) offered a five level space (an increase of 20,000 sq ft) with expansive street level windows and plenty of heritage charm: plaster architraves, wood panelling, leaded windows and a central octagonal staircase. Plus, with rents spiraling in the original Dover Street Market location that opened almost 12 years ago, a move was on the cards. The new building is part of the Crown Estate; then owner Alan Sugar introduced Joffe to the property. While DSM is the first big retailer to make a home on Haymarket, surrounding buildings are being redeveloped with the mission of creating a new shopping hub in central London.

'We couldn't touch the walls, the ceilings or the exterior,' explains Joffe of the challenges. 'Only the floors could be changed as they were not original.' The DSM team, collaborating with a cross section of artists, lighting architects and builders, have transformed the property into a inspiring labyrinthine market housing a whole array of familiar and new brands including Comme des Garçons, JW Anderson and Loewe, The Row, Paul Smith, Dior, Alaia, Gucci, Sacai, Gaia Repossi, Supreme and Céline.

'The kindred spirit is independence, freedom and something special to say. It's not the majority. It's not the common denominator. We are aiming for something special and there is a mutual respect,' Joffe says of the brand family.

Enter the ground floor and one is immediately struck by the giant curving street style lights, designed by Daniel Young and Christian Giroux, that sprout up the floor like giant silver triffids. Incandescent light is cast over the displays – Perspex and metal cabinets for jewellery, giant pile-ups of Mansur Gavriel box bags, Simone Rocha's see-through room and an iconic Comme des Garçons wooden hut.

The thrill is in the juxtaposition of the brands and the micro/macro environments. Each floor has a different character and tempo. The basement is a hive of street cool with industrial fittings while the second floor showcases fashion's leading creatives. Chitose Abe, creative director at Sacai, chose to display her collection in deconstructed Victorian wardrobes that are sawn off at angles, designed by Gelchop. Gucci is set against a buttoned citrine velvet wall. Comme Des Garçons Ready-To-Wear, with its voluminous proportions, is set off against a sweeping elliptical gold wall by Pirosmani; while Vetements is housed in a supersized changing room set complete with rails and canvas drapes.

'Maybe it's intimidating but it really works. The changing room links to clothing and it links to retail – it is immediate. You like it, you try it on,' says Demna Gvasalia, co founder and creative director of Vetements. On the top floor, the Rose Bakery offers organic fair, tea and cake on an eclectic mish-mash of recycled tables and chairs. Composer Calx Vive has created a free-style sonic environment with slow jams and pendulum bells reverberating through the space.

True to form, nothing is conventional. The street level windows are filled with giant ivory coloured spheres. The actual entrance is on Orange Street. One of the provisos from Westminster council was that it had to look like a retail store. 'That's the last thing we wanted so Rei came up with these giant spheres which block the window but you can still see that it is a shop. Very powerful,' says Joffe.

The visual impact is sure to raise eyebrows and lure people in. Joffe and manager Dickon Bowden have set their sights on a 50 per cent increase in turnover this year. The original London store boasted increases of 15 per cent last year with a turnover of £23 million. 'It's going to be interesting,' says Joffe, 'We expect the luxury person to still come and we expect new clients and more tourists who will be thinking, what are those giant balls in the window?'
The former Burberry HQ (vacated in 2007) offered a five level space (an increase of 20,000 sq ft) with expansive street level windows and plenty of heritage charm.
'We couldn't touch the walls, the ceilings or the exterior,' explains Comme des Garçons and DSM president Adrian Joffe of the challenges. 'Only the floors could be changed as they were not original.'
The DSM team, collaborating with a cross section of artists, lighting architects and builders, have transformed the property into a inspiring labyrinthine market housing a whole array of familiar and new brands.
'The kindred spirit is independence, freedom and something special to say. It's not the majority. It's not the common denominator. We are aiming for something special and there is a mutual respect,' Joffe says of the brand family.
The thrill is in the juxtaposition of the brands and the micro/macro environments. Each floor has a different character and tempo.
The basement is a hive of street cool with industrial fittings while the second floor showcases fashion's leading creatives.
True to form, nothing is conventional. The street level windows are filled with giant ivory coloured spheres. Says Joffe: 'We expect the luxury person to still come and we expect new clients and more tourists who will be thinking, what are those giant balls in the window?'
INFORMATION
For more information, visit Dover Street Market's website (opens in new tab)
ADDRESS
Dover Street Market
18–22 Haymarket
London, SW1Y 4DG
VIEW GOOGLE MAPS (opens in new tab)