Cult label Refine brings 90s minimalism to wardrobe basics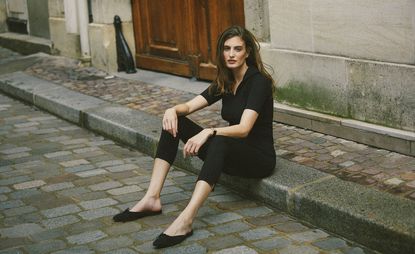 (Image credit: refine-store.com)
Expanding her line of less-is-more silky separates and slip dresses that evoke Nineties minimalism, Refine founder Anina Heé is launching Refine Jersey. Rooted in considered luxury, Refine's made-in-Europe, direct-to-consumer, never-marked-down separates are building a cult and loyal following. We meet her to learn how and why.

Anina Heé's parent's textile business in Switzerland gave her an early education in the entrepreneurial side of the business before starting her fashion career as an assistant to Carine Roitfeld in New York. She went on to become an editor at Net-a-Porter in London, coordinating between the buying and editorial teams and gaining first hand-knowledge that would guide the journey of her brand.
Wallpaper*: What can we expect from the new Refine Jersey pieces?
Anina Heé: One of the fabrics I am most proud of is a new jersey crêpe – we used it for the Gwyn style. It's a nice link to our silks as our printed designs are made of a luxurious crêpe marocain fabric. The crêpe finish is mostly used and associated with silks but you can achieve it also with other yarns such as cotton. We found a beautiful version of this fabric that is 100 per cent cotton – it feels like silk but it stretches like jersey. Another one of my favorites is the pointelle fabric used for our Perry top. The top is named after the Spring 1993 Perry Ellis collection by Marc Jacobs (one of my all-time favorite collections) where this fabric was heavily used and layered throughout. I used to wear tops like this in the 90s and feel very nostalgic about it. I wanted to create a grown-up version of these tops. It wasn't easy to source the fabric but we finally found an Italian supplier who had an amazing archive of beautiful pointelle fabrics.
W*: Where are these new pieces made and where do you source the yarn?
AH: For Jersey, we sourced the majority of the fabrics in Italy where we also source for our silk pieces. My family has worked with Italian mills and dyers for generations so it's nice to nurture these relationships. Portugal plays a huge role in the production of jersey fabrics and that's where we found our GOTS certified fabrics. The production of our pieces is located in Portugal near Porto.
W*: The price point is very reasonable. How do you keep such high quality pieces affordable?
AH: We are keeping our margins very lean. We are a DTC [direct to consumer] business which allows us flexibility. We also don't do seasonal sales which means we always offer our customers a fair price and we don't need to raise the margin to accommodate markdowns. Our price reflects the true cost of the item including a markup that covers what we need to run our business. We are also very transparent about our pricing (not offering "free shipping" for example). This part requires educating the customer as they have become so used to this kind of promotion. Unfortunately, they forget that retailers and brands who offer that can only do so because the cost is covered in the product margin. We want our customers to know what they are paying for.
W*: You use only 100 per cent natural fibres. How do you achieve the stretch and comfort in these pieces?
AH: For woven styles, there's often a mix of artificial fibres to allow the garments to stretch. If the thread itself isn't elastic, it comes down to the specific weaving technique of the fabric to achieve the stretch. If you limit yourself to only using natural fibres, it's a challenge to find fabrics that offer the same level of comfort when worn. I am excited that after a long and thorough research we found the perfect materials without compromising our standards.
W*: What's the secret to creating desirability in something so pared back?
AH: It all comes down to quality and fit. It is complex to create the perfect basic because every small detail is exposed, and you can't distract the eye with extravagance. It took us almost two years to develop this collection of wovens. I also feel like by leaning heavily on the designs of the 90s we are hitting that nerve - a desire for simple pieces that don't compromise on sensuality. Pared back minimalist designs in fashion have been very graphic, often oversized and masculine over the last few years. Refine is focusing more on the female form and embracing soft lines in our designs which feels contrary to what has been dominating recently. Maybe that's why it feels new and exciting even though it is so simple.
INFORMATION
Tilly is a British writer, editor and digital consultant based in New York, covering luxury fashion, jewellery, design, culture, art, travel, wellness and more. An alumna of Central Saint Martins, she is Contributing Editor for Wallpaper* and has interviewed a cross section of design legends including Sir David Adjaye, Samuel Ross, Pamela Shamshiri and Piet Oudolf for the magazine.