At CIFF 2017, a new generation of fashion designers is on the rise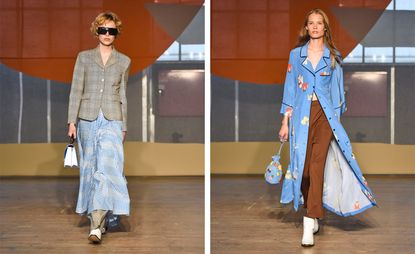 (Image credit: press)
On a sunny evening last week, a 100-plus people could be spotted grooving in an out of town car park at the Bella Center in Copenhagen. Bottles of beer and craft vodka cocktails in-hand, they were wearing a diverse smattering of styles – from Supreme X Louis Vuitton dungarees to boiler suits and floral dresses by the Danish label Ganni that recently posted annual revenues of nearly $59m. A giant pink cardboard installation featuring totemic symbols by London-based set designer Gary Card housed the DJ/designer, Charles Jeffrey Loverboy.

It's not what you might expect from a fashion trade show but then CIFF (the Copenhagen International Fashion Fair that runs in parallel to Copenhagen Fashion Week) is smoothly re-inventing itself as a destination for buyers, creatives and emerging talent alike. The Loverboy pop-up was conceived by Lulu Kennedy MBE, founder of London's Fashion East not-for-profit platform, one element of a curated programme of shows and stands through which Kennedy introduces UK-based talent to a new audience.
Inside the fair, Husam el Odeh recreated the chaos of his jewellery workshop, making pierced Danish Krone pendants on the spot while designers including Catilin Price and queer glamour protagonists Art School presented their collections against the backdrop of Louise Gray's photographic blow-ups. 'Copenhagen is relaxed and CIFF is very supportive of emerging talent,' says Kennedy. 'There is time, space and attention.'

Time and space are rare commodities in fashion and Kristian W Andersen is making best use of them at CIFF where he has been working as director and creative director for the last three years. 'Trade shows are a bit broken,' says Andersen, who is well-versed in the circuit having run his own avant-garde brand. Andersen, who also oversees Code Art Fair at the same location, adds, 'Yes CIFF is a commercial business – 2000 brands show here and it is owned by a private company but if you have the opportunity to support talent then I think that's an obligation.' One and a half million visitors pass through the fairs and conferences annually fuelling the revenue of hotels, stores and restaurants.
Alongside Kennedy, Andersen also invites a cross-section of brands into an area called Raven. Off White and Hiroshi Fujiwara have previously taken up the offer and this edition saw New York brand and LVMH prize nominee Abasi Rosborough take the stage, showing military-influenced sportswear made from dead stock materials and featuring photographic prints of melting glaciers by artist Justin Brice Guariglia. 'With the fashion industry being one of the biggest polluters, we thought it relevant and poignant to showcase glaciers on clothing – our consumption choices do matter,' says Greg Rosborough who previously worked at Ralph Lauren.

Where creativity is seen to bubble, community and commerce often follow. The mothership project is the development of an extensive neighbourhood of houses and offices (over 320,000 sq m) that will become the Bella Quarter. Denmark practices Cobe and William Lauritzen Architects have been commissioned for the €2 billion development that will include green spaces, sports facilities, galleries and shops. 'We need to set the tone this is an opportunity to create a neighbourhood and when do you get the chance to do that? There are so many developments that have to be completely rethought – think of Les Halles in Paris. It's not an easy thing and we have to differentiate ourselves,' says Andersen who is planning an artist/makers in residence programme.
The city, considered one of the most liveable and green in Europe with its track history of purist design has a lot to offer and live up to. Curiosity in hygge and the concentration of Michelin restaurants have also sparked a micro tourism boom while the population is growing at 1000 a month. Now, the fashion halo is beginning to glow with designers established and new including Martin Asbjorn (great Miami beach pastel linens), Ganni, Très Bien (a spin-off line by the concept store), Cecilie Bahnsen and jewellery designer Sophie Bille Brahe offering thoughtful, spirited collections that encapsulate the city's aspirational way of life.

There's no better advert than watching healthy, smiling twenty-somethings bike through the streets in ruffled dresses and flak jackets, boys in shorts and pyjama shirts. It's the polar opposite of the urban angst and punkish subversion that pervades the scene in New York, Paris and London.
INFORMATION
For more information, visit the CIFF website (opens in new tab)