Print perfect: a look inside the rise of Danish label Cecilie Copenhagen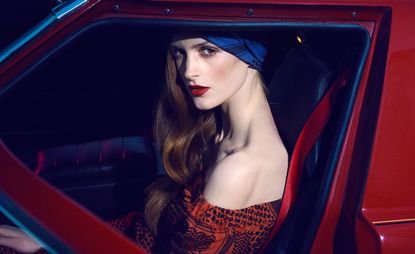 (Image credit: press)
Cecilie Copenhagen is quite literally the definition of an overnight success. The story of the Danish design student fashioning a tunic from her mother's keffiyeh scarves will surely go down as one of the most quoted in recent fashion history. Compliments came thick and fast when Cecilie Jørgensen wore what is now her best-selling O shirt on a night out in Copenhagen, and she was fielding enquiries before she'd even had time to consider her first career move. 'It was crazy,' says Jørgensen of the 2011 outing. 'To me it was just a top. But everyone was like: "it's so beautiful, where can I get it?"'

With a resolve that's clearly reflected in her business acumen, she focused on completing her fashion studies at Copenhagen's prestigious Royal Danish Academy of Fine Arts. 'I thought I'd graduate and work in a coffee shop,' she says earnestly. Six months later, she was selling tunics and loose-fit trousers in her now signature geometric print to a 300-strong crowd in the back of her mum's interiors store. When she moved to her own studio in the city's old town, the devotees doubled: 'The line went down three flights of stairs and to the end of the street.'

While her start may have been accidental, the 21-year-old narrows her fast success down to some very smart business decisions. 'We knew from day one that we wanted to have control over every aspect of the brand,' says Jørgensen ahead of her Autumn/Winter 2016 showing in Paris. She's referring, of course, to the label's first season in which she was approached by nearly 500 retailers worldwide. It wasn't until Browns came knocking (followed by Liberty, Boutique 1 and Sydney's exclusive Parlour X) that she truly felt she met her match. 'We were looking for luxury retailers with an edge,' she says of her decision to wait for the right candidates. 'The edge part was very important for us.' It's a strategy that has paid off: her laidback tunics, off-the-shoulder tops and matching shorts are constantly sold out.

Four years on and demand shows no sign of slowing. It's little surprise, given the Scandinavian label's trajectory came at a time where fashion's collective consciousness was rejecting overly designed pieces in favour of less fuss. While her silhouette is true to distinctly minimal Scandinavian sensibilities, the recognisable print and bold colour are a welcome departure. 2011 was, after all, a year since a woman named Phoebe Philo presented her groundbreaking Spring/Summer 2010 collection for Céline. This context, combined with a growing interest in the wider Nordic design ethos, resulted in the perfect backdrop for a brand like Cecilie Copenhagen to shake things up.

Jørgensen's latest foray sees her take her first steps away from the print she's become synonymous with, with an elevated brand offering: Cecilie Copenhagen Studio. And while she's been toying with the idea of a separate line for two years, it wasn't a decision she took lightly. 'We wanted to stay true to the spirit of Cecilie Copenhagen,' she says, her sentiments reverberating through the collection of muted silk and cotton devoré, which hints at the print through texture rather than relying on a graphic pattern. With the Studio line, which Jøorgensen insists began as a personal hobby, she wants to push the DNA of the Cecilie Copenhagen brand into new and unchartered territory, and her easy jumpsuits and carefree tailoring make a convincing start. Four years on, the hype hasn't subsided.
INFORMATION
For more information, visit the Cecile Copenhagen website (opens in new tab)