Blown glass and graffiti: San Miguel de Allende's bold retail outpost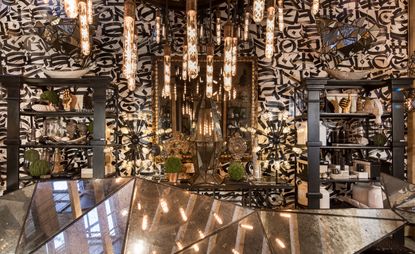 (Image credit: press)
Established in 1542 by a Franciscan monk, the hilly central mountain village San Miguel de Allende, and UNESCO World Heritage site about 3 hours outside of Mexico City, has been a longtime haven for artists originating in the 1950s. Present-day accolades include it being awarded 'The Best City in the World' in 2017 by Travel & Leisure Magazine.

Targeting the design conscious and culinary focused residents and visitors, Luis Fabian Flores, owner of renowned Casa Armida and architect-interior designer at Codigo Postal (Postal Code Design), has put together a cool collection of shops that celebrate the best lifestyle elements under one roof.

Located in a historic brick interior building which was once a post office on Canal street – just steps from the iconic cathedral - the collective features three upscale boutiques from Casa Armida home furnishings, to eclectic jeweler Elisheva & Constance, local fashion outpost La Colektiva HojaSanta, along with Bovine brasserie and bar.
Blending the old-world exterior-interior of exposed distressed brick with contemporary style, the entryway is a maze of geometric antique mirrored wall panels and mixed metals that reflect the rope-draping chandeliers and black and white floor tiles of different patterns throughout the ground floor, that lead to tiled stairs ascending up to the top floor.

The entire second story is devoted to Bovine brasserie, designed by Bruce James (manager of the town's first contemporary Hotel Matilda), and designer Juan Pablo Gallegos. Tucked away in a corner by the bar, Mesa Dragones, is a private 10-seat Casa Dragones tequila tasting room featuring artwork by Brazilian contemporary artist Rodolpho Parigi.

Back on the ground level, Casa Armida has developed a Mexican design style using reclaimed native cimbra woods, brass fixtures, blown glass, ceramics made of free led terracotta, marble and cantera stone, with a black and white graffiti wall, commissioned by muralist-calligrapher Said Dokins, as a backdrop that towers up to the loft-style ceiling.

Found in eight Mexican cities as well as Dallas and New York, Elisheva & Constance is a rising star on the Mexican jewelry scene, creating unique baubles that fuse original designs with artisanal influences and techniques. The pieces are displayed in glass cases merge different materials and textures from bronze, silver, gold, crystals and natural stones used for necklaces, rings and bracelets.

The asymmetrical glass wall materials continue to the sales desk and display tables at La Colektiva HojaSanta which brings together an array of innovative Mexican designers in one boutique that celebrates talent in the rising world of Mexican fashion, leather accessories and hand-woven textiles such as Argullosamente Mexicanos.
INFORMATION
For more information, visit the Casa Armida website (opens in new tab), the Elishiva Constance website (opens in new tab), the HojaSanta Boutique website (opens in new tab) and the Bovine Brasserie website (opens in new tab)
ADDRESS
Codigo Postal
Canal 16, Centro
San Miguel de Allende
Mexico
VIEW GOOGLE MAPS (opens in new tab)