Behind the seams: Kenzo joins the circus in a Vaudevillian romp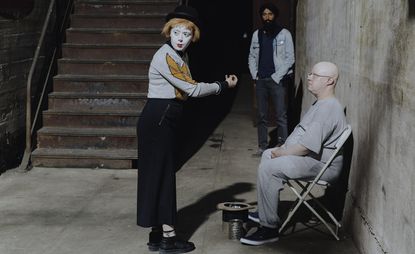 (Image credit: Press)
For actor Natasha Lyonne (of Orange is the New Black fame), films are often more real than real life. 'I dropped out of NYU to hang out in the back of the movie house,' she says. 'Sometimes I would take notes but they were indecipherable because I was in the dark. It was a deep thing I had going with the movies.'

For Kenzo's fifth fashion short – a campaign trailer for the A/W 2017 collection – we're sat in the row behind a teenage Lyonne, peering over her shoulder. Her first directing credit, Cabiria, Charity, Chastity journeys into the recesses of her most bizzare, beautiful and deeply-rooted filmic fantasies.

We follow Chastity (Maya Rudolph), as a modern-day Giulietta Masina (the Italian actress depicted in La Strada, 1954) and Shirley MacLaine (of Sweet Charity, 1969) on a journey of surrealist self-discovery. Venturing into Chastity's Vaudevillian past, (which we can't help feel echoes Lyonne's own as a pradaded-about child perfomer on Pee-wee's Playhouse) we cross Matt Lucas as a sad clown and Macaulay Culkin as a shadowy ringmaster. Greta Lee, James Ransone, Leslie Odom Jr and Lyonne's boyfriend Fred Armisen complete the merry band of unlikely players.

As if scanning Lyonne's scrawled notes in the back of the theatre, we attempt to follow the story in the half-light, losing the thread, only to find that it has emerged in a different decade. Chastity 'speaks gibberish'. Characters get trapped in circling Beckettian conversation. Lyonne pulls us along for the ride with dark-humour, heartbreak and diamond-studded eyelids.
Influenced by Divine, John Waters and Bette Davis, Lyonne is in full support of cinematic outrageousness. 'Who hates things any more? I don't know when things got so friendly and normal.' She can't identify with 'waifs in natural makeup', or the 'subtle whisper acting' that's popular today. 'Take Maya Rudolph. She clearly has a rocket ship IQ and deep humour, which I think makes it so much more heartbreaking to watch her.'

Kenzo, no stranger to creating fully-absorbed fashion drama, supported her vision at every turn – something Lyonne knows to be 'utterly unique'. 'It's Kenzo's mission to let its collaborators go down their own rabbit hole,' she explains.

Encouraged by her long-rooted friendship with Kenzo creative directors Humberto Leon and Carol Lim, Lyonne jumped at the chance to work with the French fashion stalwart because of its famously slanted take on advertising. 'I find the assembly line propaganda we're so often fed highly problematic. Sales and fashion are two very different animals in my opinion. Fashion is incredible. It's one of the arts.'

Humberto and Lim hold the same artful standards to its advertising campaigns, here accentuated by the costume design of Arianne Phillips, who Lyonne credits as having a 'massive impact' on the overall aesthetic, and quality, of the film. Leather gloves with black and white fingers stretch over the elbows; draping neck pieces pulsate with palm-sized sequins; calf-high, thick-heeled boots glint in white leather across a smokey stage.

This is a happy mesh of influences, that hinges upon the darting, all-encompassing eye of Lyonne. But, it couldn't have happened without the 'terrific faith' placed in her by of one of fashion's more outre houses.
INFORMATION
For more information, visit the Kenzo website
Elly Parsons is the Digital Editor of Wallpaper*, where she oversees Wallpaper.com and its social platforms. She has been with the brand since 2015 in various roles, spending time as digital writer – specialising in art, technology and contemporary culture – and as deputy digital editor. She was shortlisted for a PPA Award in 2017, has written extensively for many publications, and has contributed to three books. She is a guest lecturer in digital journalism at Goldsmiths University, London, where she also holds a masters degree in creative writing. Now, her main areas of expertise include content strategy, audience engagement, and social media.