Best in show: the transporting runway sets of A/W 2022
Giant pumpkins, funhouse mirrors, snowy tundras – discover the very best runway sets from the A/W 2022 womenswear shows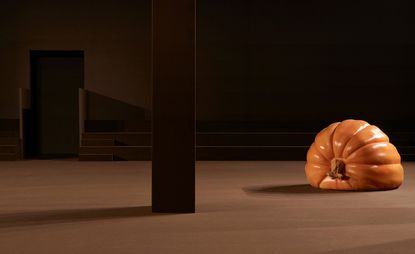 (Image credit: press)
As ever, the recently wrapped fashion month provided a plethora of dramatic and transporting runway sets – from the playful to the provoking. Spanning the world's fashion capitals, discover the most memorable show sets and venues of the A/W 2022 womenswear season.
Best runway sets, A/W 2022 womenswear
Prada
In a continuation of the brand's menswear presentation earlier this year, models entered the AMO-designed show space at Milan's Fondazione Prada through a stark sci-fi-like tunnel, this time illuminated pink. The space itself provided a softer contrast, clad in an expanse of olive green carpet on which cinema-style chairs were arranged to create a zig-zagging runway (notes described an opposition between the technological and the theatrical). Models were tracked through the vast space with spotlights, adding to the feeling of theatre in what was an apt backdrop for a collection that celebrated 'the occasion of the everyday', bringing together the women who have defined Prada, past and present, from Erin O'Connor, Liya Kebede and Hannelore Knuts to Kaia Gerber and Euphoria's Hunter Schafer.
Gucci
Alessandro Michele's accompanying manifesto to his latest show, titled Exquisite Gucci, cited the 'metaphor of the magical mirror' as the starting point for a collection that marked a return to the Milan schedule after two years. Optical tricks, phantoms and illusions were all on Michele's mind this season, transforming the show space at Gucci's headquarters into a funhouse hall of mirrors, which reflected and warped the collection's looks across its rippling surfaces. The effect was a musing on what Michele called the 'phantasmagorical' power of fashion – 'clothes as optical labs that can give birth to fairy tales of metamorphosis and re-enchantment', as he described.
Chanel
Tweed has long been a central tenet of Chanel's collections, its importance to the house reiterated by current creative director Virginie Viard this season with a collection that paid homage to the historic fabric. 'We followed the footsteps of Gabrielle Chanel along the River Tweed, to imagine tweeds in the colour of this landscape,' Viard wrote in a statement. Aptly, vast swathes of tweed also provided the collection's backdrop at the house's new show venue, the Grand Palais Éphémère – a temporary space on Champ-de-Mars while the original Grand Palais is renovated for the upcoming Paris Olympics – lining the walls and runway, the latter a curving blue loop, evoking the Scottish river from which the fabric takes its name.
Balenciaga
Few shows this season provided such an impact as Georgian designer Demna's latest for Balenciaga, which began with a statement from the designer on Russia's invasion of Ukraine. 'The war in Ukraine has triggered the pain of a past trauma I have carried with me since 1993, when the same thing happened in my home country and I became a forever refugee,' he wrote. It meant that the show's mise-en-scène – a stark Perspex circle around which models battled through snow and wind, belongings in hand, which was originally meant as a comment on climate change – took on powerful new resonance. Accordingly, he also left a T-shirt in the yellow and blue of the Ukrainian flag on each seat, dedicating his collection to 'fearlessness, to resistance, and to the victory of love and peace'.
Valentino
There was a certain simplicity to Pierpaolo Piccioli's latest collection for Valentino, a series of monochrome looks appearing in just two colours – black and pink. The latter was central to Piccioli's vision for the season, a vibrant shade of the colour that, post-show, will take its place on the Pantone colour chart as 'Valentino Pink PP'. This extended to the runway set itself, whereby the walls, floor, pillars and block-like seating were all matched in the same hue for total pink immersion.
Louis Vuitton
An elaborate runway set isn't always necessary for an impactful show – at least not when you are Louis Vuitton, and can take over Paris' Musée d'Orsay, the former Beaux-Arts train station that now houses a definitive collection of French Impressionist art and sculpture (the occasion marked the first time a runway show had taken place in the museum). Under the Musée d'Orsay's famed central clock – an apt symbol for Nicolas Ghesquière's collections at Vuitton, which ricochet through eras and time – models wandered among marble sculptures, backdropped by artworks like Thomas Couture's mammoth Les Romains de la décadence.
Dior
Attendees at Dior's latest show were watched over by canonical portraits of women from the 16th to 19th centuries (think: Vermeer's Girl with a Pearl Earring, Da Vinci's Lady with an Ermine), though on closer inspection, not all was what it seemed. Instead, each one had its eyes cut out and duplicated, to unsettling effect, part of a large-scale project titled The Next Era by Italian artist Mariella Bettineschi ('their cut up, stacked eyes question the judgment that has conditioned – and still conditions – women past and present', said the notes). Covering the red-carpeted walls of the show space, this was the latest in a long line of collaborations between Dior creative director Maria Grazia Chiuri and feminist artists of different generations, a defining element of her tenure thus far.
Loewe
Loewe creative director Jonathan Anderson has enjoyed a long creative partnership with the British artist Anthea Hamilton; in 2018, he created the costumes for her immersive work The Squash at Tate Britain and the pair have collaborated in various ways since (most recently, he was listed as one of the co-creators of her first survey exhibition at M HKA, Museum of Contemporary Art Antwerp, which runs until 15 May 2022). For his A/W 2022 offering, a reproduction of Hamilton's Aquarius – a towering image of an underwear-clad male model printed onto fabric and hung from scaffolding – greeted guests at the show's entranceway, while the interior brown-carpeted space was scattered with her giant pumpkins, here recreated in collaboration with Loewe.
Acne Studios
An expansive white box, reminiscent of an art gallery, provided the setting for Acne Studios' A/W 2022 collection, held at Paris' Lycée Carnot. Contrasting with the space's austerity were a number of sunken 'living rooms' – soft carpet-clad seating into which attendees descended, peering upwards as models walked the runway around them (the faux-fur carpet will be donated to the Parisian fashion school, Studio Berçot, post-show). Also in the space was a raised white booth, from which 1970s synth-music pioneer Suzanne Ciani provided the show's live soundtrack.
Hermès
The Hermès show space was defined by light and shadow, models walking along pillared corridors high above their space, moving in and out of darkness – the effect akin to the chiaroscuro of film noir. Similar columns of light backdropped the runway itself, extending upwards towards the Garde Républicaine's high ceilings. It made for a show which was at once pared back and dramatic, placing Nadège Vanhee-Cybulski's subtly sensual collection at its centre.
Roksanda
Roksanda Ilinčić's work is defined by a deft use of colour, a practice often informed by her extensive knowledge of art, both historical and contemporary. This season, Ilinčić united with Ireland-born artist Eva Rothschild, situating a number of her colourful geometric sculptures along the runway at the Tate Britain space. 'Eva's work is always challenging preconceived notions we may have,' Ilinčić told Wallpaper*. 'For this collection, I wanted to explore the duality and contradictions within us of being grounded in our new reality but still wanting to dream. I think that underlying dichotomy is really mirrored and reflected back in Eva's works.'
Sportmax
Femme fatales, 'she-demons', sex symbols – so ran the inspirations for Sportmax's latest collection, 'Dial S for…' which melded Hitchcockian muses with sci-fi heroines for a collection that oozed sensuality. The runway set itself was similarly evocative – attendees lined an enigmatic all-pink corridor, lined with doors to nowhere, as if models were marching through a dream.
Jack Moss is the Fashion Features Editor at Wallpaper*. Having previously held roles at 10, 10 Men and AnOther magazines, he joined the team in 2022. His work has a particular focus on the moments where fashion and style intersect with other creative disciplines – among them art and design – as well as championing a new generation of international talent and profiling the industry's leading figures and brands.