Best fashion moments of Frieze Week 2022, Michèle Lamy to Raf Simons
In the wake of London Fashion Week cancellations due to the Queen's death, fashion returns to the city with a raft of shows, events and launches to coincide with the arrival of Frieze art festival. Here, in an ongoing round-up, is the best of Frieze fashion, from Michèle Lamy at Matches Fashion to Alexander McQueen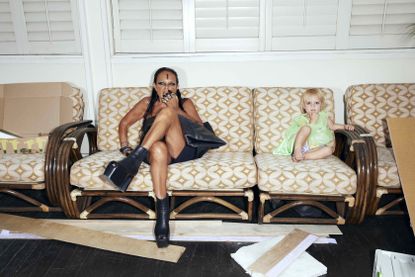 (Image credit: Danielle Levitt, courtesy of Matches Fashion)
London Fashion Week S/S 2023 came with a slew of cancellations in the wake of the Queen's death, as various runway shows and events were cancelled due to the restrictions of national morning. As such, many designers and brands have chosen to decamp to Frieze week with a packed schedule of shows, events and happenings taking place this week (think of it as fashion week mark five). Officially called 'Celebrating London Fashion Week' by the British Fashion Council, the big-ticket events include shows from Alexander McQueen, Roksanda and Raf Simons, the latter two originally slated to show on the official London Fashion Week schedule last month. Here, in an ongoing round-up, the best Frieze fashion moments from the week.
The best Frieze fashion moments 2022
Raf Simons
In September, Raf Simons created costumes for Glass Handel, a contemporary opera which showed at London nightclub Printworks as part of BBC Proms 2022. On Thursday evening, he returned to the venue – housed in a former industrial forming printing plant close to Rotherhithe, south-east London – to show his own S/S 2023 collection, which also mined the theatre for inspiration. This time, Simons looked towards ballet with a collection titled 'Corps, Coda', backdropped with a floor-to-ceiling film of a single dancer in the designer's clothing (a collaboration with New York City Ballet choreographer Justin Peck). 'The energy of dance, the impact of the body… a celebration,' said the collection's accompanying notes, figured in the clothing through a feeling of ease and physicality – cut-off ballet tights in various shades, romper suits, sweaters which replicated the shape of an undone leotard. 'Bare, spare, cut away, stripped back… a reduction to an essence, to essential form.'
But Simons noted that he was also thinking about the corporeal experience of being in a nightclub – compounded by a thumping soundtrack by longtime collaborator Clara 3000 – drawing from what he deemed Britain's resilient spirit in the face of recent adversities ('you feel London, and the country is a hurt animal, but it's an animal ready to go out… there's something positive within the negative,' he told American Vogue). Indeed, his own show was meant to take place during London Fashion Week in September and was cancelled in the wake of the Queen's death; here, it was restaged during a Frieze week which felt bigger than ever (Simons, who is an avid collector, has long attended the art fair, and the collection itself featured works by late Belgian artist Philippe Vandenberg). As such, the show had a celebratory air: as the lights dimmed, the bar – which stretched the length of the venue – transformed into the runway for a show watched on by over 1000 standing attendees, from milliner Stephen Jones and Valentino's Pierpaolo Piccioli to a new generation of Central Saint Martins students. At the show's close, Simons took his runway bow and then stepped off the stage and into the crowd of revellers, ready for a party which continued long into the night.
Roksanda
It feels natural for Roksanda Ilincic to show a collection during Frieze week; throughout her career, she has forged strong links with the art world as both collector and collaborator (last season, she collaborated with artist Eva Rothschild on the show's colourful geometric set). For S/S 2023 – originally due to be shown during London Fashion Week – Illincic returned to Hyde Park's Serpentine Gallery where she has shown for several seasons, choosing Chicago-based artist Theaster Gates' 'Black Chapel', the 21st Serpentine Pavillion, as a backdrop. The monumental circular black building with central oculus – a place of 'reflection, refuge and conviviality' inspired by various architectural 'typologies', from Roman tempiettos to Uganda's Kasubi Tombs in Kampala – was chosen by Ilincic for the way it 'unleashes the unexpected yet significant emotions that come with a reflection on death', 'the perfect setting for Roksanda's own meditative journey'. As such, Ilincic looked to the rose – 'appointed at births, taken to weddings, and put on a grave' – as a motif, here imagined in gowns that bloomed with ruffles, while the works of Pipilotti Rist (a longtime touchpoint for Ilincic) inspired the collection's bold abstract prints. 'Feminine yet disturbing,' the notes described.
Alexander McQueen
Sarah Burton chose Greenwich's Old Royal Naval College as the location for her latest collection for Alexander McQueen, transporting the vast inflatable bubble devised by architect Smiljan Radić for the designer's S/S 2022 collection last year to the new riverside location. Titled 'First Sight', the collection itself was about 'searching for humanity and human connection', communicated through what Burton called 'a symbol of that humanity, a register of emotion, an expression' – the human eye. As such, the motif reoccurred throughout a collection, printed unblinking onto abbreviated asymmetric dresses or embroidered across a bodysuit in shimmering sequins and crystals (the latter worn by model Naomi Campbell). Elsewhere, Burton sought to create clothes to empower their wearer, 'stripped back, dissected and focused on cut, drape and silhouette', from sliced-away tailoring and low-waist trousers – evoking Lee McQueen's seminal 'bumster' silhouette – to armour-like leather bustiers and structured denim two-sets. Completing the picture was an evocation of the works of Dutch painter Hieronymus Bosch, for a mood 'at once dance and beautiful'.
Moncler: 'The Extraordinary Expedition' at 180 Strand
The celebrations for Moncler's 70th year began with a dramatic public performance in Milan last month; this October, the label opens a new exhibition in London titled 'The Extraordinary Expedition' (it opened first in New York, and will travel to Seoul and Tokyo). 'A multisensory journey into the brand's past, present and future' with mise-en-scène evocative of a mountain expedition – one room comes complete with a snowstorm – the open-to-the-public exhibition sees pieces from the house's various collaborations (Pierpaolo Piccioli, Craig Green, among others) meet historic garments from Moncler's archive. The other half of the exhibition is dedicated to a project by British portrait photographer Platon, capturing various British creatives in the house's Moncler Maya 70 puffer jacket, a reinterpreted version of perhaps Moncler's most recognisable design.
Moncler 'The Extraordinary Expedition' runs at 180 Strand from 12-16 October 2022 at 180 Strand. Sign up here for tickets.
Matches Fashion featuring Michèle Lamy and friends
Matches Fashion's 5 Carlos Place is holding a roster of events to coincide with Frieze, most notably a series of morning-time salons with creative polymath Michèle Lamy. Titled 'Eggs With Hun', the series sees Lamy personally serve breakfast to guests from a menu devised with Isis Neal (formerly of Les Deux Cafes) in the 'Michmatch Cafe' alongside special guests, from David Hoyle to photographer Platon. Elsewhere, Matches Fashion will host a celebration of Raf Simons' latest collaboration with Kvadrat, a jewellery pop-up with Nadine Ghosn and a brunch with Christopher Kane and A Vibe Called Tech founder Charlene Prempeh.
For the full programme of events at 5 Carlos Place see here.
Palace launch Palace Product Descriptions: The Selected Archive
Palace's unorthodox product descriptions – which often have little to do with the product in question – have achieved cult status, now celebrated in a new Phaidon-published book which launches during Frieze week. 'Ludwig Wittgenstein claimed that a serious philosophical work could be written entirely of jokes: we might now add product descriptions,' says Sam Buchan-Watts in the introduction to Palace Product Descriptions: The Selected Archive, available to purchase from October 26 2022. More than 3000 of these descriptions are collated in the book (written by Palace Skateboards founder Lev Tanju), spanning categories from 'Anatomy' and 'Animals' to 'Philanthropy', 'Romance' and 'Travel', while images of Palace's most memorable products intersperse the text.
Celine supports Sotheby's Frieze Week Sales
Celine is this year's partner for British auction house Sotheby's annual Frieze Week Sales, which comprises a blockbuster collection of works by artists from Gerhard Richter to Francis Bacon (it is set to be the most valuable Frieze Week sale in Sotheby's history). In the energetic spirit of the coinciding art fair, Sotheby's main Contemporary Evening Auction is accompanied by 'The Now' sale, which celebrates rising talent, from Louise Giovanelli and Jadé Fadojutimi to Lauren Quin and Charlene von Heyl.
Stay tuned for more Wallpaper* fashion coverage from Frieze Week 2022
Receive our daily digest of inspiration, escapism and design stories from around the world direct to your inbox
Jack Moss is the Fashion Features Editor at Wallpaper*. Having previously held roles at 10, 10 Men and AnOther magazines, he joined the team in 2022. His work has a particular focus on the moments where fashion and style intersect with other creative disciplines – among them art and design – as well as championing a new generation of international talent and profiling the industry's leading figures and brands.