From The Simpsons to the European Parliament: best Balenciaga show sets
'Ay, caramba!' In celebration of The Simpsons-inspired Balenciaga S/S 2022 runway show, which saw the residents of Springfield descend onto the catwalks of Paris Fashion Week, we present the best recent fashion show sets from the Parisian maison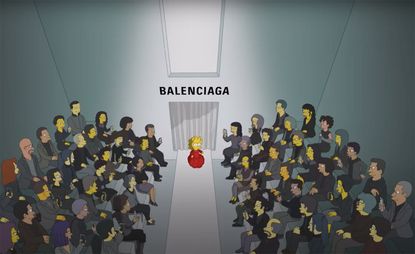 (Image credit: Balenciaga/Youtube)
Wallpaper* Newsletter
Receive our daily digest of inspiration, escapism and design stories from around the world direct to your inbox
Thank you for signing up to Wallpaper. You will receive a verification email shortly.
There was a problem. Please refresh the page and try again.
'Ay, caramba!' Last week Balenciaga showcased its own episode of The Simpsons, complete with a star-studded (Chief Wiggum, Smithers, Patty, Selma) catwalk show in Paris, as part of its innovative S/S 2022 presentation. In celebration of the screening, we look back to some of the most recent set design extravaganzas served up by the maison, taking its guests from graffiti-topped mountains to the auditorium of the European Parliament. If they don't stimulate your show-set senses, we'll eat our shorts.
Best Balenciaga fashion show sets: S/S 2022
Balenciaga literally rolled out the red carpet for S/S 2022 with a show-cum-film premiere at the Théâtre du Châtelet in Paris, which saw guests, from fashion journalists to A-listers, take a turn on the red carpet as they entered the venue. Taking their seats inside the ornate auditorium, they were treated to a special screening of The Simpsons, which saw its beloved characters travel to Paris and take part in a Balenciaga runway show. Cue Lisa and Maggie sporting pillar box-red peplum dresses, Marge wearing a voluminous gold gown complete with XL bow, and Homer rocking the brand's signature pufffer jacket as they strutted down the cartoon catwalk.
Balenciaga A/W 2020
Guests entered an apocalyptic, flooded landscape inside Luc Besson's Cité du Cinema building in the suburbs of St Denis, Paris. Stadium seating was submerged in viscous water (unluckily for fashion editors, the first two rows were completely sunken). Models sloshed along the runway, while above them were projected huge images of global climate crisis – from raging flames to frantic birds in flight – and a techno soundtrack pounded. Backstage, creative director Demna Gvasalia offered a surprisingly positive take on his runway set-up, emphasising the power and beauty of fashion amidst a vision of the end of the world.
Balenciaga S/S 2020
In a show set inspired by Brussels, and the ongoing political tumult of Brexit, Gvasalia erected an in-the-round show set at Luc Besson's Cité du Cinema building – which resembled the European Parliament. Guests sat in a spiral of office chairs in a huge curtain-lined assembly room that was swathed in bold blue, and on the ceiling, huge panels of strip lights illuminated the botched-cosmetic-surgery make-up looks sported by models on the carpeted runway.
Balenciaga S/S 2019
While, for A/W 2018, Gvasalia had taken guests to the peak of a graffiti-tagged mountain (below), for S/S 2019 he had a more immersive vision in mind. The designer created a catwalk-turned-video tunnel, lined with digital video installations devised by Canada-born video artist Jon Rafman. The psychedelic trip-like visuals surrounded guests as they watched the Paris-based show, projecting them into an uncanny alternative universe, as an eerie voice repeated 'presence is key, now is the answer, ego is not who you are…'
Balenciaga A/W 2018
During his tenure at Balenciaga, Gvasalia has imagined show sets which evoke the everyday — like a roller blind-lined office or a tree-lined Paris park. There was a more intrepid air to the brand's A/W 2018 show set, which featured a looming mountain within a Paris broadcasting studio. There was an urban edge to the landscape, which featured an all-white runway, evoking a snowy pathway or a blank canvas. The mountain at its centre was tagged with neon graffiti, boasting the Balenciaga brand name, celebratory slogans like 'power of dreams' and a smiley-faced emoji.
INFORMATION
Receive our daily digest of inspiration, escapism and design stories from around the world direct to your inbox