The show celebrating Alaïa and Balenciaga's sculpting prowess
A new exhibition in Paris celebrates the work of the late Azzedine Alaïa and Cristobal Balenciaga, featuring over 56 garments which are showcased alongside each other for the first time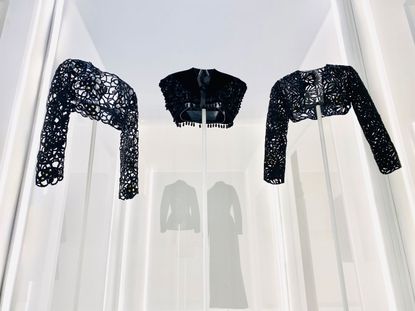 (Image credit: Stéphane Aït Ouarab)
In the heavenly sphere, one could imagine the two masters of architectural fashion – Azzedine Alaïa and Cristobal Balenciaga – enjoying a tete-a-tete as the exhibition 'Sculptors of Shape' opens in Paris at the Association Azzedine Alaïa. The Spanish born 'master of us all', (as Hubert de Givenchy described his mentor, Balenciaga) and the Tunisian born couturier were dedicated to construction and the quest for timelessness. Their designs not only empowered women, transforming mere mortals into goddesses and high priestesses but impressed legions of architects and designers with meticulously judged proportions and elegiac, sensual silhouettes dramatized through the colour black.

It was Hubert de Givenchy (who died in 2018) who suggested the idea of a duet show on a visit to Azzedine Alaïa's studio only months before Alaïa passed in November 2017. 'We wanted to honour Givenchy's "dream" and the proposal of a parallel show,' says Carla Sozzani, a close friend of Alaïa and the president of Association Alaïa. 'Over the decades, Alaïa had collected more than 400 pieces of Balenciaga alongside work by Madame Gres, Vionnet and many more,' she says of the connoisseur's formidable trove that includes art, artefact, furniture and sculpture.
Alaïa's obsession with Balenciaga dates back to the late 1960s. Sozzani explains that the talented young couturier had been invited by Mademoiselle Rene, vice general director of Balenciaga, to chose dresses and materials for possible re use from the stockroom after the George V maison abruptly closed in 1968. Balenciaga was dismayed at the industrialisation of fashion and refused to compromise his methods and artistry not unlike Alaïa who kept to his calendar showing collections only when he satisfied with the work. 'He did not want to touch or alter the garments – he considered that sacrilege,' says Sozzani.

The pairing of the two couturiers is striking and appears as if the two minds were in symbiosis. The Association's curator, Olivier Saillard, found synchronicity in shape, gesture, fabric, form (silk jersey, velvet, lace, wool) in the carefully plotted groupings. Through a labyrinth of fine white mesh screens, designed by Kris Ruhs, one comes to admire a sequence of gowns that segues from an Alaïa sculpted bodice strapless black gown (1988) to an outstanding Balenciaga Watteau pleated strapless black taffeta design with a balloon skirt (1958) and a taffeta siren gown by Alaïa (2003). 'Azzedine always loved a bolero,' adds Sozzani admiring a line up seven examples including a graphic velvet design with exquisite jet beading by Balenciaga, another in filigree cut suede by Alaïa. The quintessential Spanish garment and brilliantly dramatic topper to a strapless evening gown, is due a revival.
RELATED STORY
In this exhibition, featuring 56 garments, time seems to collapse and chronology is irrelevant. A Balenciaga lace cocktail dress (1950), appears like the older sister to a ruby red lace midriff top and fishtail skirt from Alaïa's 2016 collection. For both couturiers transcendence was the goal.

'When Azzedine passed he left a huge collection in different spaces, and now our role is to make an inventory. His obsession with collecting started with Balenciaga and long before people became interested in archives. They shared a sense of perfection, a fascination with technique – they knew every stitch and every type of pattern cut – and were both passionate about sleeve shapes. You see that in the constant reinvention of jackets and coats and the silhouettes are so particular to each.

'They are like architects – driving clothes towards timelessness,' says Saillard. Of Ruhs scenography he adds, 'You see the designs almost as if in a cloud – intimately, intelligently and with a sense of privilege too.' The show also includes sketches and early film footage of Cristobal Balenciaga backstage. It will transfer to the Balenciaga museum in his native town of Guetaria, Spain in July. Timely — Balenciaga has just announced that it will unveil its first haute couture collection by Demna Gvasalia, a kindred magician of shape.
INFORMATION
'Sculptors of Shape', until 28 June, Association Azzedine Alaïa
associationazzedinealaia.org
ADDRESS
18 rue de la Verrerie
75004, Paris