Atelier E.B explores the history of window dressing in a new Serpentine show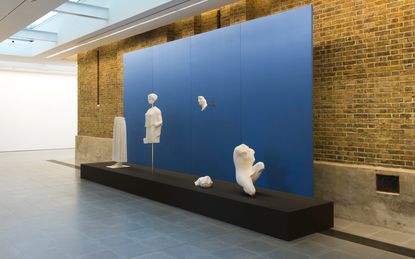 (Image credit: readsreads.info)
Fashion week – in fact a continent-crossing month long whirlwind of fanciful fashion shows and runway set spectacles – is over for another season. And with its end, questions crop up regarding the relevance of the fashion show in today's digital and environmentally aware world, and the suitability of a special effect-fuelled extravaganzas, where clothing is viewed not from up close, but a distance. The concept of how fashion is presented to the consumer – be it a runway show, a museum exhibition, or a merchandised window display – is a visual narrative which has fascinated label Atelier E.B, since it was founded by Scottish designer Beca Lipscombe and artist Lucy McKenzie in 2007.

'We find it problematic to show our clothes,' says Lipscombe of Atelier E.B's designs, which explore the relaxed realms of casualwear and sportswear. 'They aren't spectacular, but very wearable. We've tried them on mannequins, we've toured with showrooms, and we've researched how people have presented garments in the past'.
This extensive investigation has culminated in 'Atelier E.B: Passer-By', a new three-part exhibition at the Serpentine Sackler Gallery in London, which explores the history of fashion display, from the cultural heritage and artistic evolution of the mannequin, to the enchanting and dying art of window dressing.

'The exhibition title invokes the idea of window shopping, and the concept of passing through time,' says curator Melissa Blanchflower of the show. The exhibition is also the first Serpentine show to be fully dedicated to fashion. The first section offers a well-heeled walk through the history of mannequin design and window trimming, and features rooms and vitrines bursting with artworks and installations, film and rare archival material.
Mannequin design is considered in terms of socio-political contexts including modernism, the world fairs of the 1930s and the rise of fascism, and encourages discussion of the changing shape of the desired female body over time. A 2014 reproduction of a 1955 plaster mannequin created by Charles James reflects the body type the couturier preferred to toile his designs on, while a 1923 lacquered silver sculpture by Rudolf Belling represents the streamlined and machine age-inspired athletic figure idealised during the industrialising 1920s. Pivotal figures in the art of window dressing are also celebrated, from Gene Moore who created miniature mis-en-scene for Tiffany & Co in the 1950s, to Natasha Kroll, the production designer who trimmed windows for Simpsons of Piccadilly during the 1940s.

'I'm fascinated with the idea of mannequins as art objects,' says McKenzie. This intrigue extends into the second element of exhibition, which culminates in a series of works by seven contemporary artists including Elizabeth Radcliffe, Anna Blessmann and Markus Selg, which uses mannequins or display devices to present pieces from Atelier E.B's previous collections.

Radcliffe's intricately handwoven tapestry of artist Marc Camille Chaimowicz from 2017 (whose work also features in the show), is reconfigured from a portrait into a presentation device, modelling a brooch design by the brand. A silicone cast of Blessmann's hands holding a silk camisole and pencil skirt sits below a coil of metal covered with fluffy blue fur, a spiral which evokes both a scarf and a hanging device, and Selg's Fractal Abyss (2008), a figurative interpretation of a classic sculpture is reimagined as a mannequin wearing a knitted jumper.

The work of Steff Norwood is not only featured in the second stage of the exhibition, but he is also the mastermind behind the design of its third stage. Here, Atelier E.B's latest 'Jasperwear' collection – one featuring tracksuits and merino knitwear, decorated with signs of the zodiac and gladiator's helmets – is presented inside a Norwood-created shop window. The pieces are folded and pinned in a display created by renowned window trimmer Howard Tong.

'It's the perfect way to show our clothes,' Lipscombe says. Museum goers also have the chance to see the collection up close and purchase or order the brand's caps, knits and sportswear in a showroom open at the weekends. 'Clothes are so interesting in their tiny details,' Mackenzie says. Lipscombe agrees. 'We like wearable clothing. It's the underdog… How we choose to present it comes from our shared experience.'
INFORMATION
The 'Atelier E.B: Passer-by' exhibition is on view at the Serpentine Sackler Gallery until 6 January. For more information, visit the Serpentine Galleries website (opens in new tab) and the Atelier E.B website (opens in new tab)
ADDRESS
Serpentine Sackler Gallery
West Carriage Drive
London
W2 2AR
VIEW GOOGLE MAPS (opens in new tab)