Ascher reissues artist-designed scarves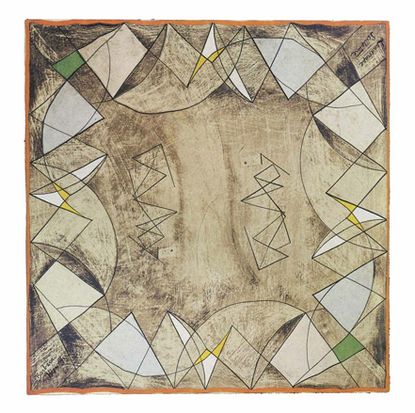 (Image credit: Barbara Hepworth)
In our October issue we hailed the release of some highly covetable neckerchiefs designed and made in the 1970s by iconic textile firm Ascher. The stock had been spotted and swept up by young London-based fashion retailers Tallulah and Hope (opens in new tab), who saw the potential of these winning designs and one off pieces, made from open-weave mousse de coton - a fabric that is now obsolete.
Looking into the history of Ascher (opens in new tab), celebrated by the V&A (opens in new tab) in an exhibition in 1987 - but little since - we marvelled at the achievements and creative reach of the company, founded in London in 1942 by Prague-born husband and wife team, Zika and Lida Ascher. With boundless energy and imagination, they created a textile business that became the favourite of the couture houses - Christian Dior, Hardy Amies, Balenciaga, Cardin, Givenchy, Yves Saint Laurent and Mary Quant were all clients.
While Zika developed pioneering new textiles, Lida developed many of the designs herself. But Zika also forged relationships in those early days with many fine artists in England and France, persuading them to create or donate artwork for fabrics, and a new line of business... headscarves. The names he enticed are awe-inspiring - among them were Henri Matisse, Pablo Picasso, Jean Cocteau, Sonia Delaunay, Henry Moore, Paul Nash, Graham Sutherland, Feliks Topolski, and Alexander Calder.
In the late 1970s, the family moved to New York and son Peter Ascher took on the running of the business with his designer wife, Robin. Today it is their son, Sam who has recently taken up the reins, and has cast a welcome backward glance at his grandparents' archives. Recognising the present hunger for mid-century design, Sam has revisited some of those iconic early designs, and this season has reproduced them in new colourways and scales, silk-screened onto silk twill, silk chiffon, and a rich cashmere/modal blend from Como, Italy.
The chosen archive designs come from Graham Sutherland, Feliks Topolski, Gerald Wilde and Henry Moore. He has also revisited four designs by his grandmother, Lida - 'Flowers', the Ascher plaid, 'Papier Dechiré' and 'Rose Pompom' - which featured in Dior's 1954 collection.
With this sort of heritage, the credibility is surely there to create something original and brilliant with contemporary artists. 'We are hoping to work with new artists for scarves and interior accessories too,' says Sam, who himself seems in awe of the potential of the business his grandfather built and which he now finds in his hands, adding: 'The future is wide open!'