Architect Camiel Van Noten and Lies Mertens' minimalist accessories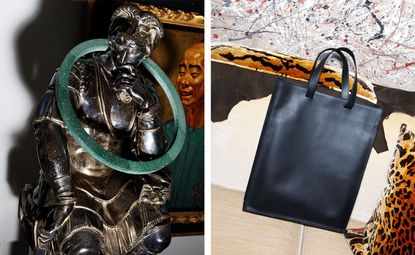 (Image credit: Michaël Smits)
'For me, it's really important a bag is simple and practical, yet of high quality and matchable with all of my wardrobe,' says the Brussels-based architect Camiel Van Noten, of his collaboration with the Antwerp-based handbag designer Lies Mertens. The bag — a minimalist boxy tote in smooth black leather with little to no design trappings — was created by Mertens in homage to her friend and co-collaborator, and is titled the Camiel.

It makes sense that a handbag named after Van Noten would be low on embellishments but high on functionality: the architect, nephew to fashion designer Dries Van Noten, says the frenetic speed of fashion and the focus on trend-led garments was one of the reasons he chose to design buildings, not blouses. 'I was seduced by the permanence and slowness of architecture,' says Van Noten.

The collaboration is, to some extent, the culmination of a meeting of minds: Van Noten and Mertens became friends years ago, bonding over a shared penchant for timelessness and graphic silhouettes: Mertens' bags, are crafted using biodegradable leather of the highest quality, and her burgeoning two-year old label subverts fashion's frantic pace, with focus on transparent manufacturing processes, sustainable outputs, and attention to materials and pure form. 'Although my designs are functional objects, I wanted to prove that such functional objects can be a form of art as well,' says Mertens. 'I love simplicity and austerity, but I like to combine it with striking or unexpected things — that's why I like to supplement my own straight-forward style with other inspirations and styles,' she says.
Enter Van Noten, who added to the collaboration with a series of jesmonite side tables, plates and plant stands in ombre-patterned hues of jade green and ocean blue that were inspired by the colour gradients of artist Josef Albers and sculptor Jean Arp. Titled UU, the collection blends the design eye and disciplines of both Mertens and Van Noten. 'We were interested in breaking down the boundaries between fashion and other creative disciplines,' says Van Noten. 'My work as an architect goes beyond the traditional boundaries of architecture… This collection is a starting point for a series of ongoing collaborations.'
Fittingly, the duo decided to shoot the campaign imagery in the home of another Belgium-based creative — interior architect Gert Voorjans, who created the store design for all of Dries Van Noten's shops globally (the duo have worked together for over 20 years). Voorjans' home-come-studio — a lesson in technicolour with magenta walls, granite surfaces and colour-soaked textiles — provided the perfect backdrop. 'Gert's dedication to traditional crafts and his eclectic style are becoming more and more rare these days,' says Van Noten. 'During the shoot, our objects started a dialogue with other furniture, textures and artworks from different times and cultures. Suddenly everything fell into place, and there was a beautiful harmony,' he says.
Van Noten says Instagram is fuelling demand for cross-disciplinary collaboration. 'We live in a world where identities are constantly being shifted and blurred, and we have to embrace the complexity and richness of today's cultural multiplicity,' he says. But the project has additional appeal for him. 'Buildings take many years from first sketch to completion, this collaboration with Lies was much faster paced,' he says. 'To be able to do both at the same time is liberating and exciting.'
INFORMATION
www.liesmertens.be
camielvannoten.eu
Receive our daily digest of inspiration, escapism and design stories from around the world direct to your inbox