A fashion journey: Louis Vuitton unveils Series 3 exhibition in London
Louis Vuitton unveils Series 3 exhibition in London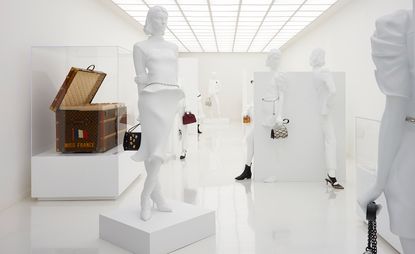 (Image credit: Louis Vuitton)
Prior to Nicolas Ghesquière fourth ready-to-wear collection show for Louis Vuitton in Paris, the French luxury house opens up the designer's creative process and influences for a broader public in 'Series 3', an exhibition taking up three floors of 180 Strand, a Brutalist office building in central London.

Es Devlin, the award-winning British set designer who also worked with Ghesquière on his last three runway shows, guided Wallpaper* through the space she devised, while it was still receiving finishing touches. 'It's the same thing moments before the shows,' she assures us. 'You have to enjoy the feeling of this building site in progress.'

The first room is an encounter with a structure that should be familiar to regulars at Ghesquière's Vuitton shows: a geodesic dome. Here, lifted from a show set, it hangs suspended below a mirrored ceiling. In the background plays a recording of a storm coupled with a text written by Jüergen Teller and recited by Adele Exarchopoulos, immediately introducing the viewer and listener to Ghesquière's favoured motif of a girl on an expedition. A white tunnel made of sail cloth continues this theme of journey, as does the next room it leads to, where intentionally disorienting videos are projected on walls surrounding an oversized white Vuitton trunk. Inside it, images are shown of iconic Vuitton muses like Catherine Deneuve and Charlotte Gainsbourg, alternated with digital 3D renderings of bags and shots of the interior and exterior of Louis Vuitton's Frank Gehry-designed Foundation.

Throughout the exhibition, much emphasis is put on the 'hands', the craftsmen and women who devote themselves to producing the pieces. You can catch them here in real life, brought over from Vuitton's Asnières atelier, creating 'La Petite Malle' bags. In another, mirrored room, footage of the 'hands' at work is shown at desks similar to the artisans', in order to experience what it must feel like to work meticulously on these bags.

Walking through the 13 rooms of 'Series 3', it's clear that all facets of creation are paramount to Louis Vuitton. Devlin explains, 'every stage of the process is a conversation, a dialectic between heritage and future, experiment and emotion, present and past.' We're invited to take (a) part of it, literally: when exiting one of the last rooms, which has its walls covered with teenage bedroom-style inspirational editorial images courtesy of Bruce Weber and Jüergen Teller, you can simply take one with you.
INFORMATION
Louis Vuitton Series 3 exhibition runs until 18 October; www.louisvuitton.com
Photography courtesy of Louis Vuitton