Artist Sophia Al-Maria on her fairytale video installation for Miu Miu's Paris show
Qatari-American artist Sophia Al-Maria tells Wallpaper* the story behind her new video work, which backdropped Miu Miu's S/S 2024 collection shown in Paris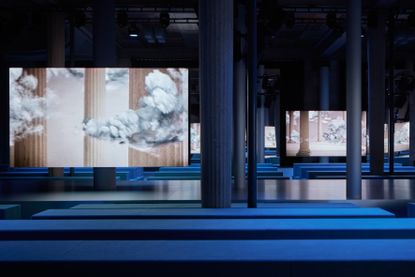 (Image credit: Courtesy of Miu Miu)
The classically inspired proportions of Auguste Perret's 1939-built Palais d'Iéna in Paris – 'a hymn to concrete', as it has been described – were the starting point for Qatari-American artist Sophia Al-Maria's latest project, a video work that provided the backdrop for the Miu Miu S/S 2024 collection shown during Paris Fashion Week S/S 2024 earlier this week. The rationalist building, which now houses the French government's Economic, Social and Environmental Council, has been the venue for Miu Miu's shows for several years, transformed by the Italian house season on season.

'The space of Palais d'Iéna was the starting point – I often start projects by thinking through the architecture,' Al-Maria tells Wallpaper*. 'Classical brutalism was a wild concept to me – I wanted to make the classical brutalist space even more surreal and multiply the dimensions the audience could view the show within.'
Artist Sophia Al-Maria for Miu Miu S/S 2024
As such, interspersed between the space's various columns, a series of screens showed Al-Maria's latest work both prior to the show – a moody cloud-filled sky, suggesting an approaching storm – and during the show itself, where images swerved from a samurai sword-wielding female protagonist to strange, futuristic versions of the Palais' pillars. The accompanying notes described the film's setting as 'a landscape of technological ruins, an imaginary history invented inside the Palais d'Iéna'.
Al-Maria said she first got involved with the project – one of several recent 'interventions' of the Miu Miu show space by contemporary artists – after her work was displayed as part of the 2023 exhibition 'Everybody Talks About the Weather' at Fondazione Prada's Venice outpost. Titled The Future Was Desert, her film featured 'delirious, post-apocalyptic dreamscapes' set amid the Gulf Region and explored themes of environmental devastation, fossil-fuel dependency and the geopolitical complexities of the region.
'I knew we had shared interests in human history and deep time,' says Al-Maria of her affinity with Mrs Prada's work. 'There is a theme of questioning what is real and what is not, and in response to this extremely real experience of questioning the present moment, I wrote a sort of "episode recap" of a fairytale about this [idea].'
As such, the film, titled Gravity & Grace, is described by the house as 'an old story with a new twist... a fairy tale ending (of the world) about a court jester and a royal guard who can't agree if life is a tragedy or comedy'. Both characters ('archetypal twins') are played by stunt woman Ayesha Hussain, fighting with swords and crossbows in what Al-Maria calls 'an epic battle over POV'. A soundtrack is with an original piece by Melbourne-based band Divide and Dissolve, arranged by Asma Maaroof, Daniel Pineda and Joshua Fay.
As for the film's link with the collection itself – which saw Mrs Prada explore 'a rationale of beauty today... exploding, redressing' – Al-Maria describes 'a serendipitous symmetry', despite not seeing the full collection prior to creating the film. 'I was transported when I saw a few of the looks. It felt as if a sensation that I have felt in the air around experiencing the present moment was suddenly embodied and enrobed in [the pieces].'
The S/S 2024 collection was a typically intriguing collection from Mrs Prada, who said she was inspired by 'radically expanding' notions of beauty. 'Instead of rigid paradigms, there is a radical expansion, a rich plurality,' explained the collection notes. 'Not beauty, but beauties, an embracing of unique characters, the joy of life.' Looks let moments of glamour clash with the everyday: a golden brocade dress sat over a simple sweater and shirt, a lace petticoat with a blazer. Elsewhere, recent signatures of the house – abbreviated mini skirts, exposed logoed waistbands, elements of sportswear – continued to be riffed upon by the designer.
'The surreal mixed with the quotidian,' says Al-Maria of what Miu Miu encapsulates for her. 'The everyday with a twist.'
Receive our daily digest of inspiration, escapism and design stories from around the world direct to your inbox
Jack Moss is the Fashion Features Editor at Wallpaper*. Having previously held roles at 10, 10 Men and AnOther magazines, he joined the team in 2022. His work has a particular focus on the moments where fashion and style intersect with other creative disciplines – among them art and design – as well as championing a new generation of international talent and profiling the industry's leading figures and brands.