Fondazione Prada exhibition is an ode to a vanishing Venice
At Fondazione Prada's 18th-century Venice palazzo, group exhibition 'Everybody Talks About the Weather' straddles beauty and fear and probes Venice's precarious environmental future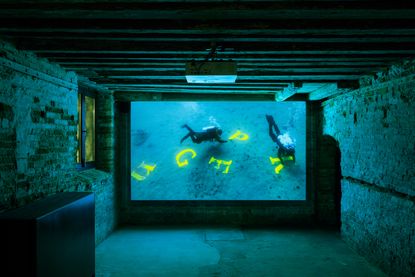 (Image credit: Photo Marco Cappelletti. Courtesy Fondazione Prada)
The Grand Canal laps at the steps of Fondazione Prada's 18th-century palazzo, leaving strata tidemarks charting the rising lagoon. This waterside entrance was once used not only to deliver dignitaries and guests who then climbed the grand staircase to the richly decorated Piano Nobile, but also materials and goods which were then stored in the somewhat less-grand ground floor spaces. 'Everybody Talks About the Weather', the venue's new exhibition curated by Dieter Roelstraete and coinciding with the Venice Architecture Biennale 2023, spreads across both floors, filling it with aesthetically beautiful if potentially cataclysmic images.
A ground-floor, low-ceilinged store is transformed through the blue hue of a sub-aqua video from Raqs Media Collective. Deep Breath (1999/2002) follows three divers in the Aegean Sea on a situationist quest to find distributed letters to spell out 'the forgetting of air' – a fragment of ancient Greek aphorism which references a study of Martin Heidegger, but perhaps now also speaks to our taking-for-granted of elemental forces and a collective lack of care for them. The work was filmed the summer before Covid, though the divers' heavy breathing through back-strapped air tanks acts as a haunting premonition of the sounds of breathlessness and intubation which followed.
The ground floor stores of palazzos such as Fondazione Prada's Ca' Corner della Regina are designed to survive Venice's annual flooding, allowing high waters to pass under, while architecture and artworks of greater value are safe on higher floors. However, half of Venice's intense high-water events since 1872 have occurred within the past three decades, so Raqs' footage of divers floating through the palazzo could be read as another foretelling.
'The scientific community is largely agreed that in 75 years Venice will exist no more, it will have been drowned … so this building will be lost,' Roelstraete tells me. This risk of flooding can be read in his curation: the floodable ground floor predominantly presents video and quickly-demountable wall works – including Plastic Horizons (2014), a series in which Dan Peterman layers strips of recycled plastic as if documenting anthropogenic chronology – alongside ten high-resolution but relatively low-value printed reproductions of famous historical paintings.
At first, it seems odd for the curation to so heavily rely on these reproductions. The originals could obviously not be presented in such an at-risk, non-climate-controlled space, but their inclusion invites us to question what (and who) else is at such risk from environmental changes, or indeed to imagine what if culture we cherish now might only exist in the future through mechanical reproduction.
The function of the reproductions – including Bruegel's Hunters in the Snow, Turner's Rain, Steam, and Speed, and Monet's Impression, Sunrise – is not to add historic gravitas, but invite reconsideration of masterpieces through the lens of climate breakdown, reinterpreting them as documents of a changing ecosystem. 'Venice is a very dramatic backdrop for this argument, because it's kind of a celebrity victim,' Roelstraete suggests.
Information panels present contextual scientific data and research. Monet's coalsmoke yellowness, blue morning light, and red rising sun are explained as a record of early industrial environmental impact, while diagrams illustrate the social and health impacts of the Little Ice Age Breugel painted through. The visitor can dive into this analysis as much or little as they wish, supported by a wide library of further reading.
Upstairs, the ornate portego is dominated by Vivian Suter canvases draped from a framework, playing against the colours and Renaissance clothing in surrounding frescoes. When Suter's work overlooked the Acropolis at Documenta 14 her canvases flitted in open breezes, here their sway is more subtle as visitors walk by and Nick Raffel's balsa wood Fan (2022) lightly circulates air from above.
Rooms on each side of the portego consider thematic climactic conditions including rain, clouds, and melting, using a variety of historic and contemporary works: Venetian Giorgio Andreotta Calò's 2014 core samples of Lagoon mud provide more strata, utilising a process used by both environmental and extractive industries; an anonymous naïve 1709 painting captures Venetians comedically slipping across the frozen lagoon; a photograph by Hans Haacke documents the freezing, melting, and evaporation of snow on his studio roof; while diptychs from Chantal Peñalosa photograph a cloud from each side of the Mexico-US border as it innocently crosses the hard division. 'The cloud is kind of like the archetypal figure here because it's the sublime object of detached aesthetic contemplation,' Roelstraete suggests, before adding 'but it can also be a portal of disaster.'
The dialectic between beauty and fear, as illustrated by the cloud, is present throughout 'Everybody Talks About the Weather', but might aestheticisation and beautifying unimaginably horrific outcomes soften fear, feeling, and potential action? 'Yes, to a certain extent, but to a certain extent, aestheticising might also help mobilise,' the curator says, before adding 'though most of the people who will come see this are, of course, already aware.'
'Everybody Talks About the Weather', until 26 November 2023. fondazioneprada.org
Will Jennings is a writer, educator and artist based in London and is a regular contributor to Wallpaper*. Will is interested in how arts and architectures intersect and is editor of online arts and architecture writing platform recessed.space and director of the charity Hypha Studios, as well as a member of the Association of International Art Critics.