Men's grooming products: these brands deliver dapper looks daily
These brands offer men's grooming products to address your daily needs, from effective skincare to beard brilliance and convenient concealers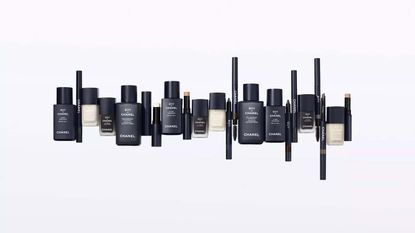 (Image credit: Boy de Chanel )
Our edit of brands offering the top men's grooming products spans skincare, oral care, haircare and more to address all of your everyday grooming demands.
Men's grooming products: brands for your daily routine
Patrick's
Patrick's packs powerful hair, skin and body product performance in sleek packaging. Favourites of ours include the Anti-Hair Loss spray that is formulated to block the hormone DHT, which causes hair loss, and comes in an innocuous black bottle that doesn't stand out in your cupboard. The Shine Finish styling paste is another great option for those looking to slick back or style their hair without a greasy finish.
Le Labo
Le Labo's grooming products offer a new way to work the brand's exceptional scents into your daily routine beyond just spraying their perfume.

The range includes hair-styling balm, shaving cream, a post-shave moisturiser and, our favourite, a beard oil formulated with sunflower, grapeseed and jojoba oil to nourish hair and skin. Even better, all are fragranced with a sophisticated blend of bergamot, lavender, violet and tonka bean.
Boy de Chanel
Chanel's Boy de Chanel was one of the first luxury cosmetics lines ever to be made specifically for men. Now, at a time when gender-neutral makeup proliferates the market, the collection of concealers, nail polishes, eyebrow pencils and eyeliners in muted and monochromatic tones has come to represent a crucial turning point towards a more inclusive and gender-fluid approach to beauty products.
Our favourites are the black nail polish and the concealer stick. You can find a how-to guide on how to wear the entire collection here.
Horace
Horace's reasonable price point and efficacious formulations make it one of the best brands for men's grooming products, both for those who are serious about their skincare and those who don't know where to start.
Its extensive range of products includes those for face, body, beard, hair, mouth, and fragrance, making it a reliable one-stop shop for all your grooming needs. We particularly like the convenient concealer pens and lightweight foundations.
Narcyss
Launched in 2021, Narcyss is a relatively new player on the grooming market that pairs sleek packaging with adaptogen-driven vegan skincare formulations. The types and uses of adaptogens are varied but, simply put, they are plants and fungi that respond to physical and toxic stressors – from pollutants in the air to the anxiety of everyday life – by modulating the release of stress hormones from the adrenal glands. Their particular magic is their ability to adapt to the specific demands and deficiencies of the individual body and, as a result, effectively combat feelings of stress, anxiety, fatigue and more.
Paris-based Narcyss uses adaptogens in its range of five products – a cleanser, serum, moisturiser, eye cream, and night mask – to rejuvenate the skin structure and help the microbiome adapt to changing environments.
Pleasing
It would be easy to dismiss Harry Styles' beauty and grooming brand, Pleasing, as little more than a clever marketing ploy, but the products are, in fact, very good, with playful nail varnish shades, effective skincare products, and some of the best make-up pigments we have ever tried.
When it comes to grooming, we recommend trying The Pleasing Pen, which combines a brightening eye roller, formulated with natural lingonberry, okra and hyaluronic salt, and a lip treatment with soothing marshmallow in a convenient pen format.
The Grey
The Grey is a line of men's grooming products with lightweight, highly absorbent skincare offerings that easily glide onto skin and don't cling to facial hair. Along with the brand's high-end face washes, serums and masks, the brand features effective sunscreens, shampoo, deodorant and supplements.
Our favourite is The Grey's Exfoliating Toning Pads, which offer a quick and refreshing face cleanse and are compact enough to be kept in a tote bag and used throughout the day, or packed in a gym bag for a post-workout exfoliation.
Receive our daily digest of inspiration, escapism and design stories from around the world direct to your inbox
Writer and Wallpaper* Contributing Editor
Mary Cleary is a writer based in London and New York. Previously beauty & grooming editor at Wallpaper*, she is now a contributing editor, alongside writing for various publications on all aspects of culture.