Kim Jones on his couture-infused bottle and sneaker for Hennessy, a first foray into product design
British designer Kim Jones distils the essence of French cognac house Hennessy into a pair of sneakers, a limited-edition bottle and a decanter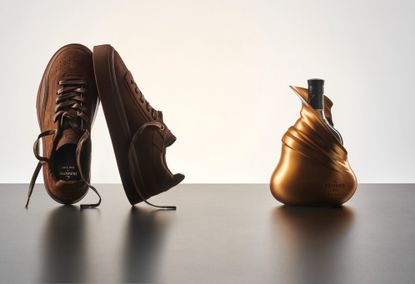 (Image credit: Photography by Neil Godwin at Future Studios for Wallpaper*)
When we talk at the close of 2022, Kim Jones is fresh off a trip to Egypt, where he showed his Pre-Fall 2023 Dior Men collection in a blockbuster runway presentation at the base of the Giza pyramids – the first major fashion show of its kind at the historic site. Having joined Dior as creative director of its men's line in 2018, and Fendi as artistic director of womenswear and couture in 2020, globetrotting has become routine for the industrious designer, who creates more than a dozen collections a year and splits his working life between London, Paris, Milan and Rome.
The latest project in Jones' ever-expanding portfolio sees a rare foray outside the world of fashion, to design a limited-edition bottle for historic French cognac producer Hennessy's XO 'extra-old' blend (created in 1870 by Maurice Hennessy, grandson of founder Richard Hennessy). The bottle is characterised by its fluid twisted metal shell, evoking the tissue paper used to wrap bottles of Hennessy cognac in the late 19th century. Jones notes that he approached the collaboration much like he would a collection at Dior or Fendi, beginning in the archive, identifying historical pieces, and redefining them for the present moment in his sleek, streetwear-infused style.
The story behind Kim Jones' Hennessy collaboration
'There were all these amazing glass cabinets, full of old bottles – it was almost medical,' says Jones of his visit to Hennessy's library and museum in Cognac, France, where the brand was founded in 1765 (it's now part of luxury goods conglomerate LVMH, alongside Dior and Fendi). Jones found himself drawn to some of the oldest bottles, which were wrapped in twists of paper, reminding him of fabric being placed on a body when creating an item of clothing. 'They felt like something I could tie my work to, that feels authentic. They reminded me of the idea of draping fabric,' he says. 'Bodies come in different shapes and forms. A bottle is just a different shape.'
Jones says his first memories of Hennessy come from working at a bar while studying in London in his early twenties. 'Everybody would request it after dinner. So I always knew that it was something that people desired.' Looking back on this project, he says, 'I now have such respect for the way Hennessy works. I really appreciate the level of time it takes – it's a slow process to get to a finished bottle.'
The partnership – also featuring the limited-edition Masterpiece decanter, which reflects the fluid, wrapped form of the bottle and is presented on a wooden board, alongside a cognac-coloured pair of sneakers – adds to Jones' career-defining catalogue of collaborations. While menswear artistic director of Louis Vuitton, he united with skate brand Supreme on perhaps the blockbuster fashion collaboration of our time; at Dior Men, he has collaborated with Kaws, Daniel Arsham and Hajime Sorayama, among others. A special collection, titled 'Fendace', saw an amalgamation of Fendi and Versace at Milan Fashion Week S/S 2022, Jones working alongside Donatella Versace on the high-wattage pieces.
'For every collaboration, there's 20 that I've said no to. I work with things I find interesting, or with people who inspire me,' says Jones, who admits his work with Hennessy required an adjustment to his usually expeditious way of working. 'This was much slower than we were used to, but it was nice to slow down.'
The accompanying sneakers, which are cut from suede and minimally embellished, are a way to attract his devoted fanbase, who voraciously purchase his work at Dior and Fendi when limited-edition pieces drop (footwear, like the 'B23' high-top sneaker at Dior, has proved particularly attractive to collectors of his work). 'The sneaker is something people know me for, right back from when I did Umbro x Kim Jones in 2003,' he explains. 'But here it's done in a really chic way – it's cognac-coloured, obviously, but the details come from seeing the artisans wrapping the bottles. It's taking all these elements and distilling them into a sneaker.'
Jones' allergies prevented him from tasting Hennessy XO while touring the historic distilleries in Cognac, though he admits a fascination with the process, which he likens to that of creating perfume. 'For me, it was about watching the craftsmanship, the time that's taken, the way that the [making of] cognac hasn't really changed,' he says, noting that despite advances in production technology, each bottle still 'has to have that human touch'.
Jones is also an avid collector – interests span first-edition books, ephemera related to performance artist Leigh Bowery, vinyl records, furniture and rare photography. He already has an extensive shelf of cognac bottles in his kitchen, which he says he will add to with his own Hennessy XO design. He is curious to find out where others might display the bottles they purchase. 'I think there's a desirability to objects, and this is a functional object – something you can celebrate with, or enjoy with friends.'
Of working in a new medium, he says it's 'nice to surprise people', and that taking a new approach is good to challenge one's design sensibilities. As for whether this will mark a larger movement in his work towards object design, he says it remains in the hands of the consumer. 'I love the thought of someone loving something you've made enough to buy it, or wear it, or put it in their house. That, for me, is the best review.'  
Cognac bottle, £200 per 70cl; Masterpiece decanter, £25,000; HNY Low sneakers, £625, all part of the limited-edition Hennessy XO x Kim Jones collection.
A version of this story appears in the April 2023 Global Interiors issue of Wallpaper*, available now in print, on the Wallpaper* app on Apple iOS, and to subscribers of Apple News +. Subscribe to Wallpaper* today (opens in new tab)
hennessy.com (opens in new tab)
Jack Moss is the Fashion Features Editor at Wallpaper*. Having previously held roles at 10, 10 Men and AnOther magazines, he joined the team in 2022. His work has a particular focus on the moments where fashion and style intersect with other creative disciplines – among them art and design – as well as championing a new generation of international talent and profiling the industry's leading figures and brands.