Jacob Cohën by Matthew Adams Dolan sees American denim culture meet Italian craftsmanship
American designer Matthew Adams Dolan and Jacob Cohën artistic director and president Jennifer Tommasi Bardelle talk about their collaborative collection – inspired by American denim archetypes – and plans to continue working side by side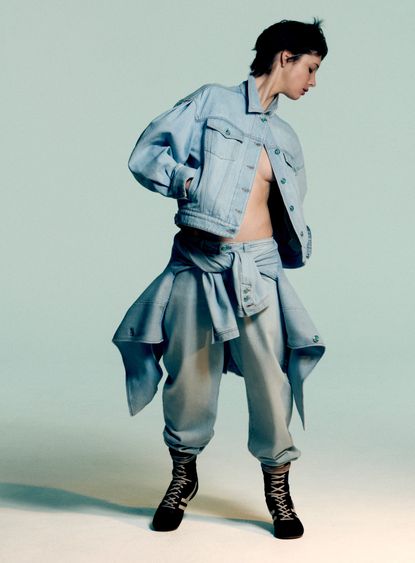 (Image credit: Photography by Grace Difford, fashion by Nicola Neri )
Having spent three seasons reinvigorating the fashion-focused womenswear line at Jacob Cohën – the Italian luxury denim label founded in 1985 – artistic director and president Jennifer Tommasi Bardelle was insistent on the need for 'freshness'. 'Jacob Cohën is a very elegant brand, but it required that kick to move into the fashion world,' she says. 'And in order to do this, I needed someone younger than me.'
So Tommasi Bardelle – who began her role after the death of her husband Nicola Bardelle, the son of Jacob Cohën founder Tato Bardelle, in 2012 – asked her team to find ten emerging designers for a then-undefined project. Location or credentials were unimportant; Tommasi Bardelle simply desired a fresh voice that chimed with her own vision for the label. Only one stood out: American designer Matthew Adams Dolan, who rose to prominence with his eponymous New York label before collaborating with Rihanna on her LVMH-backed fashion house Fenty.
'I knew immediately, without even talking to him,' says Tommasi Bardelle, 'just from what I saw in his portfolio, and his personal history. I loved what he had done for his own brand. The shapes were very elegant but contemporary at the same time. This is what I wanted for Jacob Cohën.'
Jacob Cohën by Matthew Adams Dolan for S/S 2023
Boston-born Dolan – who grew up in Australia with stints in Japan and Switzerland – founded his label in 2014, on graduating from the MFA programme at New York's Parsons School of Design. His early collections drew on archetypal American garments – jeans, workwear, Western shirts, quilted throws – supersized or twisted into bold new forms (in 2019, he described his approach as 'a new American folktale'). Central to this approach was denim. 'I've always been drawn to the idea of denim being this democratic part of your wardrobe,' says Dolan. 'It's easy to wear, it's familiar – all these things that continue to draw people to jeans.'
Rihanna was an early adopter of Dolan's work, having been introduced by the stylist Alastair McKimm, commissioning custom pieces and later asking him to assist on her Puma collaboration. Her patronage made him one of American fashion's rising stars; he went on to show for several seasons as part of New York Fashion Week and was later nominated for the CFDA/Vogue Fashion Fund in 2018. He became lead consultant for the launch of Fenty by LVMH in 2019.
In 2020 – Fenty would shutter its fashion brand in 2021 – Dolan began to spend much of his time in Italy to foster closer links with the suppliers for his eponymous label. It was part of the reason a possible collaboration with Jacob Cohën appealed, as it would allow access to its factories and mills, the pinnacles of denim creation in the country. 'Jacob Cohën's core business is denim, obviously, so it's at the forefront of manufacturing. It was an experience for me to learn and to evolve – that was the biggest draw.'
The resulting collaboration began with Tommasi Bardelle inviting Dolan to her showroom. 'He came here very humbly; he tried to really put himself into the brand,' she says. 'I really appreciated that he didn't come here telling me to change everything.'
'From the beginning, it has really been a collaboration in every way,' says Dolan. Tommasi Bardelle continues: 'It was very fluid. We both just said: let's try. He's free to draw whatever he wants. But he has that respect, and I respect his work.'
The capsule collection, released as part of Milan Fashion Week S/S23, once again sees Dolan hone in on American archetypes – in particular, a riff on the Western denim shirt, scalloped along the collar and chest pocket and available in various coloured washes. A version of the shirt even comes in delicate organza (the piece is one of Tommasi Bardelle's favourites – 'it's part of the denim world, but doing something unexpected').
'Denim was always a starting point,' explains Dolan. 'But there was also the idea of looking at pieces not traditionally associated with denim – things that were maybe more delicate and feminine.' Pieces such as a short-sleeved jumper with matching skirt, its raised knit evocative of lily of the valley flowers. 'I think he worked on it for 35 days,' laughs Tommasi Bardelle. 'It was something else. But he's transmitting the savoir-faire of Jacob Cohën, which is really based on craftsmanship.'
Dolan credits such attention to detail to his mother, who, growing up, would hand-stitch communion dresses and nightgowns. 'She used to spend hours hand-sewing pin tucks, or embroidery,' he recalls. 'I liked the idea of putting that onto something mundane, like the trucker [jacket].'
When asked whether the collaboration might continue, Tommasi Bardelle smiles conspiratorially. 'You're the first person I'm telling this to – I've asked Matthew to take over the womenswear line from S/S24.' As we speak, they are working on the collection. 'It's always good to explore opportunities like this to their fullest potential,' says Dolan. 'There's always more to learn from each other.'
'We are still testing each other, expanding our collaboration little by little,' concludes Tommasi Bardelle. 'We've had great ideas, and maybe we'll have other great ideas coming up. Let's make the most of it.'  
Model: Katie Johnson at Models 1. Casting: Svea Casting. Hair: Tosh at Streeters. Make-up: Jimmy Owen Jones at Julian Watson Agency. Manicure: Cherrie Snow. Set design: Lizzy Gilbert. Set assistant: Aliou Janha. Photography assistants: Max Glatzhofer, Benedict Moore. Fashion assistant: Stoyan Chuchuranov. Hair assistant: Leanne Millar.
A version of this story appeared in the March 2023 Style Issue of Wallpaper*, available now in print, on the Wallpaper* app on Apple iOS, and to subscribers of Apple News +. Subscribe to Wallpaper* today (opens in new tab)
jacobcohen.com (opens in new tab)
matthewadamsdolan.com (opens in new tab)
Jack Moss is the Fashion Features Editor at Wallpaper*. Having previously held roles at 10, 10 Men and AnOther magazines, he joined the team in 2022. His work has a particular focus on the moments where fashion and style intersect with other creative disciplines – among them art and design – as well as championing a new generation of international talent and profiling the industry's leading figures and brands.
With contributions from