Art form: Hannelore Knuts wears the S/S 2023 collections
As seen in the Wallpaper* March Style Issue, Belgian model Hannelore Knuts poses in pastels, chiffon and lace, against a visual narrative by painter Lucy McKenzie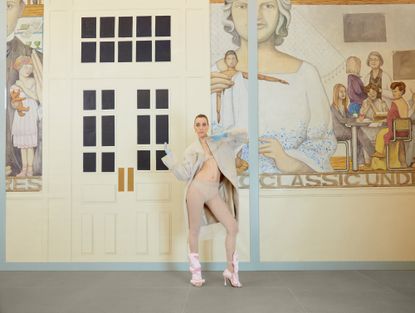 (Image credit: Photography by Nicole Maria Winkler, fashion by Jason Hughes)
As seen in the Wallpaper* March Style Issue – on newsstands today (9 February 2023) – Belgian model Hannelore Knuts poses in the S/S 2023 collections, photographed by Austrian photographer Nicole Maria Winkler and styled by Wallpaper* fashion editor Jason Hughes. The backdrop is a vast mural by avant-garde artist and painter Lucy McKenzie – who interrogates the interplay between fashion and art in her work – originally created for La Verrière exhibition space in Brussels, but here captured in its most recent iteration at London's Cabinet Gallery.
'There is a kneejerk reaction within the art world to say that you're belittling art by reducing it to décor, but I have so much respect for fashion photography, design, modelling and magazine culture. I'm glad that I get to be part of that in a little way,' McKenzie tells Dal Chodha in a conversation which unfolds below.
Everything that Lucy McKenzie does luxuriates in the tension between art and fashion. 'An art education teaches you to want to understand how you function within a system and to make decisions about autonomy or independence,' she says. 'I want to apply the same kind of rigour to fashion, to understand how it's distributed, and why we end up wearing the things we do.'
In 2007, McKenzie formed Atelier EB (Edinburgh Bruxelles) with designer Beca Lipscombe, with the aim of placing art and fashion design on an equal footing. Since 2011, the pair have been operating as a fashion label, using local production methods and alternative forms of distribution and display. During lockdown, McKenzie worked on a series of murals for La Verrière, an exhibition space supported by Fondation d'Entreprise Hermès, which is located behind the brand's store in Brussels. Inspiration came from a 2017 trip to Mexico City, where McKenzie had been impressed by the immense scale and civic ambition of Diego Rivera's murals, as well as accounts of his large-scale mural for Manhattan's Rockefeller Center.
Commissioned in 1932, this was chiselled off the wall two years later due to Nelson Rockefeller's objection to its communist sensibilities. McKenzie's own monumental historical panorama, dedicated to the history of fashion and evolving perceptions of the female body, went up with less brouhaha. The mural is the perfect format for McKenzie because it requires an enthusiasm for satire and narrative. 'I'm attracted to almost all forms of painting that are away from the easel paintings you encounter in a gallery. As a younger person, I was someone who organised events in my studio and always liked the idea of connecting painting to real life, something vivacious and juicy.'
In November 2021, her artworks came to London's Cabinet Gallery. Titled 'Approval of the Committees', the show included two tableaux, On The Prowl and House of Prototypes, each made up of five large panels. One panel showed the journey of a dress being made under the Soviet system of fashion. Another considered modernism's fractious relationship with individualism and dress. Another imagines a meeting between women designers. Lipscombe and her daughter are handing flowers to Bonnie Cashin. Henriette Nigrin (a designer in her own right but known mostly as 'Fortuny's wife') is sitting at a table with Veronique Branquinho, Claire McCardell, Jeanne Lanvin and Elizabeth Hawes. McKenzie herself is at the back chatting to Betty Kirke in her studio scrubs. 'It's this utopian idea of a fashion class, the opposite of students being dictated to; this perfect scene of knowledge being exchanged over a glass of wine.'
McKenzie is also interested in the changing context of her work. Large-scale canvas paintings made in isolation, once installed in a gallery tucked behind a luxury boutique, have now become the backdrop to our S/S23 womenswear editorial featuring model Hannelore Knuts. 'I love how great it is when you see an Erwin Blumenfeld shoot from 1945 of a model posing in front of something by Duchamp,' she says. 'There is a kneejerk reaction within the art world to say that you're belittling art by reducing it to décor, but I have so much respect for fashion photography, design, modelling and magazine culture. I'm glad that I get to be part of that in a little way.'
Dal Chodha
Model: Hannelore Knuts at Hakim Model Management. Casting: William Lhoest. Hair: Maarit Niemela at Bryant Artists using Amika. Make-up: Victoria Martin using Rationale Fashion assistant: Lucy Proctor. Photography assistants: Charlie Jade Walker, Gyöngyi Bagyinka. Digital operator: Jeanne Buech
Shot on location at Cabinet Gallery, London. Tableaux courtesy of the artist, Cabinet Gallery and By Art Matters.
A version of this story appeared in the March 2023 Style Issue of Wallpaper*, available now in print, on the Wallpaper* app on Apple iOS, and to subscribers of Apple News +. Subscribe to Wallpaper* today (opens in new tab)

Jack Moss is the Fashion Features Editor at Wallpaper*. Having previously held roles at 10, 10 Men and AnOther magazines, he joined the team in 2022. His work has a particular focus on the moments where fashion and style intersect with other creative disciplines – among them art and design – as well as championing a new generation of international talent and profiling the industry's leading figures and brands.
With contributions from