At Brioni, Norbert Stumpfl is creating clothes to feel good in
As executive design director of Roman menswear house Brioni, Norbert Stumpfl is using time-honed techniques to reimagine Italian tailoring for today – and finding a slew of high-profile fans in the process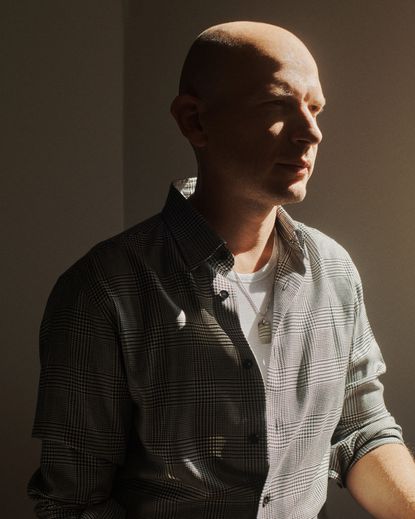 (Image credit: Photography by Paolo Di Lucente)
To describe the design philosophy behind his collections at Italian menswear label Brioni, Norbert Stumpfl evokes the work of Swiss architect Valerio Olgiati. In particular, his Villa Além in rural Portugal, a monolithic modernist home inspired by the 14th-century Court of the Myrtles in Granada's historic Alhambra Palace. Slanted walls around the exterior give the appearance that the home is opening 'like a shoe box', as Stumpfl describes, while the Court of the Myrtles' rectangular reflecting pond is replaced with an elongated swimming pool embedded into a stark concrete courtyard. Olgiati said he wanted a place he and his wife could feel 'abandoned'.
'It's so reduced, it's so powerful,' says Stumpfl from his own sparse, white-walled office in Brioni's headquarters on Piazza di San Bernardo, a small square on Rome's historic Quirinal Hill. 'It's always something I go towards: this kind of reduction, the desire to make something more simple, but still leave a powerful image. In collection fittings, we put on a lot of details to try things out. Then we take things off until we arrive at the place where [the garment] speaks for itself.'
It's an approach that in part derives from Stumpfl's reverence for Brioni's fabled archive of fabrics, which currently numbers around 800 and has been at the heart of the Roman house since its founding by master tailor Nazareno Fonticoli and business partner Gaetano Savini in 1945. Stumpfl says that the starting point of his collections 'is always the fabrics' (largely created in Italy, with a handful made in British and Japanese mills), which he hopes have a guise of simplicity, their ease-of-wear belying the hours of work such materials take to produce.
The evolution of Brioni
For this, he chooses a metaphor close to home: Italian cuisine. Having lived in the country since 2019 – just after his appointment in September 2018 – Austria-born Stumpfl is well-versed in the country's philosophy of not tampering with good ingredients. 'Brioni is like an Italian dish,' he smiles. 'You have the most incredible ingredients, you do very little to them, and then you have something amazing.'
When Stumpfl began his tenure, Brioni was a house in flux, having gone through three creative directors in a short five-year period. Among them was Justin O'Shea, a former fashion director of German e-retailer Mytheresa, who – despite having no formal design experience – undertook a radical transformation of the house in 2016, reimagining the house's logo in a gothic font and hiring Metallica as brand ambassadors. He would last just six months in the role. His successor, Nina-Maria Nitsche, an in-house hire, was also out after less than a year.
Then known to few outside of a small number of industry insiders, Stumpfl nonetheless came to the role with more than a decade of design-team experience from a roll-call of Parisian fashion houses. Beginning his career on the fashion master's degree at London's Central Saint Martins under then course leader Louise Wilson – where he met his wife Daphne Karras, who collaborates with Stumpfl on Brioni's recently introduced womenswear collections – he would go on to work in Lanvin's menswear department under Lucas Ossendrijver for more than eight years, before undertaking roles at Balenciaga, Louis Vuitton and Berluti.
Stumpfl's tenure at Brioni has seen the designer strike an astute balance between the house's roots in tailoring – 'we have to be very careful with existing lines because some of the customers have been clients for 15, 20 years so are very loyal to the brand' – and a sense of modernity defined by precise, minimal designs and a physical lightness and ease (much of his tailoring is unstructured and without shoulder pads). For a heritage house, there is little stuffiness. 'It's a bit more open, a bit more modern. We know the rules, but we are able to break them.'
Most of the inspiration behind his collections comes from observing the way that men dress in Milan and on his travels ('I'm always a bit of a spectator,' he says), as well as his interactions with clients, 'listening to what they're looking for, what's missing from the collection'. He is also close to Brioni's high-profile roster of ambassadors, including Jude Law and his son Raff Law, and Brad Pitt. 'I have a lot of conversations with them because I want them to feel good. Brad Pitt gave me this tip about dressing all in one colour – if you don't know what to wear, wear a single colour. It's such an easy trick and something I didn't have at Brioni before: a matching blue suit, blue shirt, blue knitwear. It just looks fresh again.'
Eveningwear, Stumpfl says, has become more 'eccentric' during his tenure, a place for him to play out vivid expressions of menswear inspired by the house's roots in the Italian jet set of the 1950s and 1960s. 'In the 1950s, Brioni was really an avant-garde label,' he says. 'When men were only able to wear black, navy or ivory [eveningwear], Brioni would come out with fuchsia, or canary yellow, or would use womenswear haute couture fabrics, or create a tuxedo from lace. That's how Brioni was born, there was always this feeling of eccentricity.' In 2021, Stumpfl designed a gilded tuxedo and matching shirt for Leslie Odom Jr to wear to the Oscars, crafted from a fabric woven from golden silk and 24kt-gold thread (a version is now available via Brioni's made-to-order service).
'Just ten years ago, people were saying a suit could only be worn with a shirt or tie,' he says. 'There's still a customer who has to dress up in a very traditional way, but generally there is a change in menswear: the tie is gone, the shirt is replaced by a beautiful cashmere silk polo shirt. On a summer day, I just wear a jacket over a T-shirt or tank top and it just looks so fresh. In the collections, we sometimes put a suit with a white sock. It's all these slight changes that make things look a bit more interesting, and move tailoring forward, too.
Stumpfl, who himself has a humble, understated demeanour, is determined that his collections do not overpower their wearer, but instead instil them with quiet confidence. 'It's a bit of a break from the past, where Brioni could feel a bit untouchable. I want people to put on the garment and feel completely themselves,' he says. 'Clothes that make you feel a little bit better than you ever expected.'
Brioni's A/W 2023 collection is available from Harrods.
A version of this story appeared in the December 2023 Entertaining Issue of Wallpaper*, available in print from 9 November, on the Wallpaper* app on Apple iOS, and to subscribers of Apple News +. Subscribe to Wallpaper* today!
Receive our daily digest of inspiration, escapism and design stories from around the world direct to your inbox
Jack Moss is the Fashion Features Editor at Wallpaper*. Having previously held roles at 10, 10 Men and AnOther magazines, he joined the team in 2022. His work has a particular focus on the moments where fashion and style intersect with other creative disciplines – among them art and design – as well as championing a new generation of international talent and profiling the industry's leading figures and brands.
With contributions from