Vaust designs new poke restaurant, Berlin style
Berlin design studio Vaust creates a concrete and stone poke restaurant in the heart of the city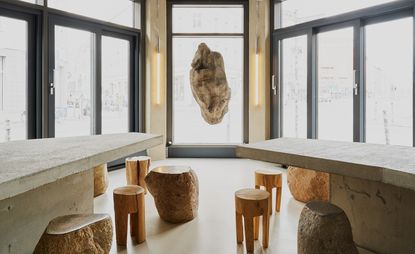 (Image credit: press)
JIGI Poke is a new poke restaurant in Berlin that forgoes the sunset colour schemes and tropical motifs of most other poke places in favour of a raw, industrial approach. The space has been designed by Vaust, a young design studio that won a Wallpaper* Design Award 2020 for its 'Toy' sculptures.
The sculpture series offered three different 'Berlin Perceptions' by using stacked disks of various materials to portray a particular moment in the city's history. One design, a tower including polished brass, MDF ivory, and salvaged oak from the Berliner Stadtschloss, pays homage to the city's 18th century; another, a stack of steel, latex, and black marble, represents its modern reputation for hedonism and nightclubbing.
Vaust brings brutalist flavour to the poke restaurant
Vaust is a distinctly Berlin studio. Its two designers, Joern Scheipers and David Kosock, create bold, weighty, and monochromatic decorative objects and interior designs that align with the city's characteristic aesthetic. JIGI Poke is a natural continuation of their oeuvre, with its dramatic combination of concrete and stone textures in tones of grey and beige.
Two rhombus-shaped concrete tables dominate the centre of the space. They are surrounded by a smattering of stools made from tree trunks or hunks of stone. The arrangement makes for a roomy, communal seating plan that leaves visitors plenty of space while still encouraging conversation.
'This project is about re-evaluating the ideas of hospitality in times of a pandemic,' say the designers. 'Guests place their orders at a freestanding cash desk, which transfers the task to an isolated preparation lab where the bowls are processed. The customer takes a seat and picks up the tray once being informed to do so. The process avoids unnecessary crowds and waiting situations.'
The menu is a selection of typical poke bowl ingredients – salmon, tofu, edamame – enlivened with strange twists like 'hot banana' sauce and a spicy 'Mexico crunch' topping.
Overall, the space is spare but not uninviting. The severity of the stools and tables is offset by warm beige walls and airy linen curtains, while a black and white image of a Hawaiian fisherman is projected onto the wall.
'A man sitting on a rock with just the very essential bit of clothing on his body is preparing his gear to go out and hunt,' say the Vaunt pair. 'We appreciate the intimacy, the balance and honesty of this situation.'
INFORMATION
Mary Cleary is the Beauty & Grooming Editor of Wallpaper*. Having been with the brand since 2017, she became an editor in February 2020 with the launch of the brand's new beauty & grooming channel. Her work seeks to offer a new perspective on beauty, focusing on the pioneering personalities, product designs, and transformative trends within the industry.