New Asian diner Dashi spices up Berlin's Mitte district
Dashi, a new diner in Berlin's Mitte district, offers an appetising and harmonious juxtaposition of Asian and Western worlds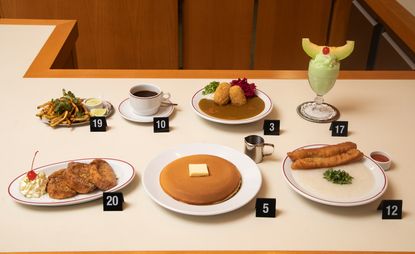 (Image credit: Caroline Knihar & Vian Nguyen)
A recently opened Asian diner in Berlin's Mitte district, designed by Danish studio Mentze Ottenstein, creates a new community framework by looking at the diverse identities that exist in the city today. Dashi is the creation of Thu Thuy Pham and Thao Westphal, Vietnamese-born childhood friends who were raised in Germany.
For many families that emigrate from their motherland, a career in the food and hospitality industry is often the most straightforward route. 'Dashi is about coming to terms with who we were as kids and being proud of our upbringing,' says Pham.
Dashi takes its inspiration from the cha chaan teng cafés found in southern China as early as the 1940s, and kissaten, Japanese tearooms and coffee houses dating back to the early 20th century and known for breakfasts of thick toast with eggs.
A crown moulding and a constellation of ceiling lights give the otherwise austere space depth. 'We like to see a space and try to figure out what was the history here. Like archaeologists, we look at the layers and try to look for the potential in a space,' says Mathias Mentze, of Mentze Ottenstein.
'For Dashi, instead of changing the travertine floor or the bronze doorknobs, we made decisions that highlighted that quality we liked and that spoke the same language as our ideas,' elaborates studio co-founder Alexander V Ottenstein.
The finished space is nuanced in its complexity and full of surprises that align with the diner's overall concept. The main dining area is flanked by windows, letting in generous natural light. An inviting counter of natural oiled ash, pushed forward and to the side, is where the front-of-house team greet diners as they enter the space, which includes wall lamps designed in 1965 by Sigvard Bernadotte for Ifö Electric, ash wood panelling and custom-made, American diner-style leather stools in a muted red.
Dashi's menu features South East and East Asian classics, as well as a few familiar Western dishes with a twist, influenced by yōshoku, a Japanese interpretation of European dishes.
The diverse kitchen team includes members of Chinese, Japanese, Korean, Brazilian and American descent. 'Our parents came here and sold Chinese and Vietnamese takeout that they adapted to the Western palate because it was the way to survive. But we wanted to flip that,' Pham says of Dashi's 'melted cuisine'.
Highlights include chicken congee with Chinese doughnuts, katsu sando with banh mi accoutrements, korokke curry, fries dusted in Sichuan pepper, and winter melon iced tea with grass jelly cubes. Of the restaurant's name (taken from the eponymous Japanese stock), Westphal says, 'Dashi is a base ingredient that allows us to build on Eastern and Western flavours. Although it's Japanese, the terminology resonated with us.'
The pervading theme in all of this – the concept, the menu, the design – is a certain duality that comes from finding harmony in diversity. 'An Asian diner is really a juxtaposition of two worlds,' Pham explains. 'We are in-between people. We feel at home anywhere and nowhere. Dashi itself is a project of contrasts. It is the juxtaposition of many things.'
INFORMATION
A version of this article appears in the April 2022 issue of Wallpaper*, on newsstands now and available to subscribers.
dashi.de (opens in new tab)
mentzeottenstein.com (opens in new tab)