Celebrate Lunar New Year with these festive recipes
This Lunar New Year, celebrate the Year of the Rabbit with a feast from the Wallpaper* entertaining archives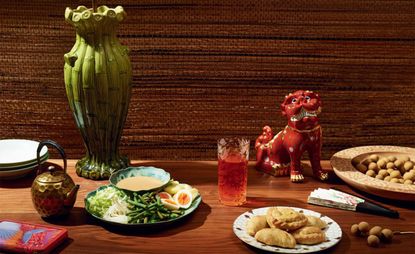 (Image credit: Photography: Richard Foster; Interiors: Benjamin Kempton; Entertaining Director: Melina Keays)
This sensational Singaporean feast is just the thing to mark Lunar New Year. You may be inspired to rustle up curry puffs and cocktails, pandan chiffon cake and bubble tea, a glorious gado gado – or all the recipes in our tantalising Singapore fling, originally created for the May 2015 issue of Wallpaper*. Happy Lunar New Year!
Curry puffs
Makes 24
Ingredients
2 tbs vegetable oil
2 onions, diced
thumb-sized piece of ginger, peeled and finely chopped
3 large cloves garlic, peeled and finely chopped
500g minced beef
4 tbs curry powder
250g waxy potatoes, peeled and cut into 1cm cubes
100g frozen peas
2 tsp salt
400ml coconut milk
juice of 1/2 lemon
500g blocks of puff pastry
Directions
Heat the oil in a large, heavy pan over medium heat and add the onion, ginger and garlic, stirring occasionally until soft and golden.
Add the beef and stir until brown.
Sprinkle in the curry powder and stir fry for a few minutes, then add the potatoes and peas and fry for another minute or so.
Add the salt, coconut milk and lemon juice.
Reduce to a simmer and cook for 30 minutes until the potatoes are cooked and the mixture is thick and glistening, with no liquid left.
Allow to cool.
Preheat the oven to 200°C.
Split each block of pastry into 12 pieces.
Flatten each with the palm of your hand, then roll out thinly on a lightly floured surface to a diameter of about 10cm.
Place a tablespoon of filling in the centre and brush the edges of the pastry with a little water.
Fold in half and crimp the edges together to seal.
Arrange on a baking sheet, spaced 3cm apart, and place in the oven for 15-20 minutes, or until puffed and golden.
Eat at room temperature.
Singapore chilli prawns
Serves 4-6
Ingredients
1kg raw king prawns in the shell
3 tbs tomato ketchup
3 tbs Shaoxing wine
3 tbs chilli sauce
2 tsp chilli oil
80ml water
2 tbs corn oil
3cm piece fresh ginger, finely chopped
4 large spring onions, sliced into rounds
2 fresh red chillies, finely chopped
2 eggs, lightly beaten
Directions
Peel the prawns, leaving the tail on.
With a sharp knife, slice down the back of each prawn, removing the intestine but not cutting all the way through the prawn.
Mix together the ketchup, wine, chilli sauce, chilli oil, and water, and set this mixture aside.
Heat a wok, or a wide deep pan, over a very high heat.
Add the corn oil and then, when very hot, add the ginger, garlic, onion and chillies, and stir fry for 30 seconds.
Add the prepared prawns and stir fry for 2 minutes, then add the reserved sauce ingredients and continue to stir fry for another 2 minutes.
Pour in the beaten egg and stir well until the egg is cooked and the prawns well coated with the sauce.
Serve with sliced baguette.
Fishball noodle soup
Serves 4
Ingredients
For the fishballs
500g white fish fillets, such as cod or haddock, skinless and boneless
2 tsp of cornflour stirred into 50ml cold water
1/2 tsp salt
1/2 tsp ground white pepper
For the soup
150g glass (mung bean) noodles
1 litre chicken or fish stock, or use stock cube
3 cm fresh ginger, peeled and sliced
2 tbs light soy sauce
1 tbs sesame oil
2 medium pak choi, chopped into large pieces
3 spring onions, trimmed and sliced
1 red chilli, thinly sliced
Directions
Place all the ingredients for the fishballs in a food processor and blend to a very fine paste.
Transfer to a bowl and place in the fridge to firm up for 1 hour.
Put the glass noodles in a bowl, cover with boiling water, and leave for 10 minutes to soften. Drain and set aside.
Shape the fishball mixture into bite-sized balls with your hands.
Pour the stock into a large pot over medium heat, then add the ginger and bring to a boil.
Drop in the fishballs, bring back to the boil, then turn down the heat and simmer for 5 minutes.
Add the soy sauce, sesame oil and pan choi to the pot and simmer for another 2 minutes.
Divide the noodles between four bowls.
Add fishballs to each, followed by the hot soup.
Serve with sliced spring onions and chillies.
Bubble tea
Serves 4
Ingredients
125g tapioca pearls
150g sugar
black tea
milk
Directions
Pour approximately 8 cups of water into a pan and bring to a boil.
Add the tapioca pearls and stir until they float to the surface.
Reduce the heat and simmer for 15 minutes, then turn off the heat, cover, and rest for another 15 minutes.
In a separate pan, bring 200ml water to the boil, add the sugar and stir until dissolved, then take off the heat and set aside.
Drain the pearls and rinse them under cold running water.
Stir them into the syrup. They may be stored like this for several hours.
Brew a pot of strong black tea for four.
Pour into a jug and allow to cool.
Add milk to taste.
To serve, fill three-quarters of a large glass with tea and stir in a scoop of the tapioca pearls and syrup.
Serve with an extra-thick bubble tea straw.
Hainanese chicken rice
Serves 6
Ingredients
1.5-2kg free-range chicken
salt
5cm fresh ginger, sliced
2 spring onions, sliced
1 tbs sesame oil
2 cups long grain rice
4cm piece of fresh ginger, peeled and finely chopped
2 cloves garlic, peeled and finely chopped
1 pandan leaf, tied in a knot
For the chilli sauce
6 red finger-size chillies, chopped
2 cloves of garlic, peeled
4cm piece of fresh ginger, peeled and chopped
1 tsp sugar
1 tbs salt
juice of 1 lime
Directions
Clean the chicken; remove and reserve the excess fat.
Season with salt, and stuff with ginger and onion.
Place in a large pot, cover with water, bring to a boil and simmer for 30 minutes.
Then lift it out of the pot, rub with sesame oil, and cool to room temperature.
Strain and reserve the stock.
Wash the rice thoroughly and drain.
Place the reserved fat in a lidded pan and heat over a low flame.
Add the ginger and garlic and cook for a couple of minutes.
Add the rice and stir fry for 2-3 minutes.
Add three cups of stock and the pandan leaf, bring to a boil, then turn the heat down and cook, covered, for 12 minutes.
Turn off the heat and leave to sit with the lid on.
For the chilli sauce, blend all the ingredients in a food processor with two tablespoons of stock.
To serve, slice the chicken and serve with rice, chilli sauce and remaining stock ladled into small bowls.
Pandan chiffon cake
Serves 10-12
Ingredients
12 pandan leaves
6 eggs, separated,
plus 3 egg whites
250g caster sugar
50ml vegetable oil
170ml coconut milk
225g plain flour
1 tsp baking powder
1/4 tsp salt
1 tsp cream of tartar
Directions
Heat the oven to 160C.
Use scissors to snip the leaves into short lengths, then place in a food processor with 200ml water and blend to a pulp.
Strain the pulp through a fine sieve into a large bowl, pressing out every drop of liquid.
Add the egg yolks, half the sugar, the oil and the coconut milk, and whisk together until smooth.
Beat in the flour, baking powder and salt.
In a clean, grease-free bowl, whisk the egg whites until just holding soft peaks.
Add the rest of the sugar and the cream of tartar, then whisk to a stiff, glossy meringue.
Fold a third of the meringue into the cake batter in order to loosen it and then carefully fold into the rest.
Pour the mixture into an ungreased, loose-bottomed, 24cm chiffon cake tin and bake for 40-50 minutes until very well risen and an inserted skewer comes out clean.
Invert the cake tin onto a wire tray and allow the cake to cool completely, upside down, without loosening the cake from the tin.
Release the cake by running a thin-bladed knife around the tin.
Beef rendang
Serves 8
Ingredients
6 kaffir lime leaves
3 tbs vegetable oil
1.5kg braising beef, cut into 5cm cubes
400ml coconut milk
200ml water
1 tbs soft brown sugar
2 1/2 tsp salt
juice of one lime
For the rempah (curry paste)
9 large fresh chillies, sliced
4 stalks fresh lemongrass, rough outer leaves removed, white part of stalk sliced
6 Brazil or macadamia nuts
5cm piece of ginger, peeled and sliced
5cm piece of galangal, peeled and sliced
10 shallots, or 2 red onions, peeled and chopped
7 cloves of garlic, peeled and chopped
3 tbs vegetable oil
1 tbs ground coriander
Directions
Blend all the rempah ingredients to a fine paste in the food processor.
Remove the ribs from the lime leaves and roll the pieces up tightly together like a cigar.
Slice them, with a very sharp knife, into very thin slivers. Set aside.
Heat the vegetable oil in a heavy, large pot and fry the rempah for 5 minutes until fragrant.
Add the beef cubes and stir fry for a few more minutes to brown and coat the pieces, then add the remaining ingredients, including the sliced lime leaves.
Simmer, without covering the pot, for 2 to 2 1/2 hours, or until the meat is very tender and the sauce very thick.
If the sauce seems too liquid, turn up the heat and reduce it down.
Serve with steamed white rice.
Sago gula melaka
Serves 6
Ingredients
150g sago pearls
1 pandan leaf, tied in a knot
2 tbs caster sugar
100g palm sugar (gula melaka)
1/4 teaspoon salt
250ml thick coconut milk
Directions
Pour the sago into a bowl and soak in cold water for 15 minutes, then rinse and drain well.
Bring 1.5 litres of water to boil in a large pan, then add the sago and pandan leaf, stirring constantly to prevent lumps.
Simmer for 10 minutes until the sago is almost fully translucent, with just the barest white flecks in the centre.
Turn off the heat and allow to stand for 10 minutes, then pour into a large bowl of cold water and stir for 30 seconds, discarding the pandan leaf.
Drain, then scoop the sago into a bowl and stir in the sugar and salt.
Rinse six individual cups (espresso or Chinese tea cups are perfect), but do not dry them.
Spoon the sago into the cups and allow to set in the refrigerator.
Shave the palm sugar into a small pan containing two tablespoons of water and place over a medium heat.
Stir until the sugar has completely dissolved, then allow to cool.
To serve, unmould the sago puddings into dessert bowls and pour a little coconut milk and syrup over each.
Place the rest of the coconut milk and syrup in small jugs for extra serving.
Gado gado (Indonesian salad with peanut sauce)
Serves 4-6
Ingredients
150g peanuts
1 tbs tamarind paste
50g palm sugar (gula melaka)
2 fresh red chillies, roughly chopped
I clove garlic, peeled
3 tbs nam pla fish sauce
juice of 1 lime
250g long beans, trimmed, cut into 5cm lengths, and blanched for 2 mins
6 small potatoes, cooked, peeled and quartered
1/2 large cucumber, seeds removed and cut into batons
large handful of beansprouts
1/2 Chinese cabbage, shredded
3 hard-boiled eggs, peeled and halved
Directions
Roast the peanuts in the oven or in a dry frying pan for 5 minutes until fragrant and golden.
Set aside to cool.
Place the tamarind paste, palm sugar, chillies, garlic, and peanuts in a food processor and grind to a paste. Remove to a large bowl and stir in the nam pla, lime juice and 120ml of water.
Add the prepared vegetables and toss well together.
Add half a boiled egg to each serving.
Melina Keays is the entertaining director of Wallpaper*. She has been part of the brand since the magazine's launch in 1996, and is responsible for entertaining content across the print and digital platforms, and for Wallpaper's creative agency Bespoke. A native Londoner, Melina takes inspiration from the whole spectrum of art and design – including film, literature, and fashion. Her work for the brand involves curating content, writing, and creative direction – conceiving luxury interior landscapes with a focus on food, drinks, and entertaining in all its forms