Nice buns: celebrate Valentine's Day with Bao's penis and boobs box
Taiwanese London restaurant Bao launches a limited-edition bao buns box just in time for Valentine's Day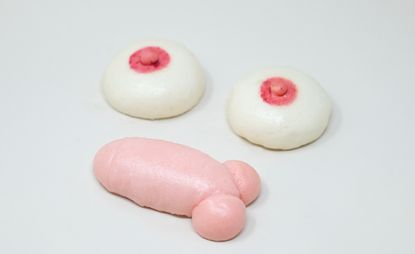 (Image credit: press)
Romantic gestures take many forms – from the bold to the bashful, there are countless ways to express your love on Valentine's Day, from chocolate gifts to flower deliveries. But this year, why not mark the event with a little more imagination? Luckily, Taiwanese restaurant Bao has risen to the occasion with its limited-edition penis and boobs bao buns box.
Bao's six London establishments focus on xiao chi, which are small plates inspired by Taiwanese street food. The chain is renowned for its bao (which literally means steamed bun) – delicious fluffy pillows enveloping a variety of fillings, including fried chicken, beef cheek, and daikon radish. The buns are easy on the eye, and present a compelling, cartoonish package in themselves. They also taste as good as they look.
Understanding the allure and the possibilities of the buns, Bao recently presented a gorgeous puffy tiger's paw to celebrate the Lunar New Year of the tiger. For Valentine's Day, its chefs have gone straight for the sweet spot and fashioned the popular Taiwanese snack into delightful, chocolate-stuffed anatomical forms – so you can cut out the small-talk and let Bao do your foreplay for you.
Bao's creative director and co-founder Erchen Chang explains: 'At Bao, we like to do things differently and have always had a bit of fun.' Apparently, the creative process was interesting, with members of the team all having their own opinions on important details of scale and design. They had already developed and served the boob bao, and wanted to expand the theme. Chang says: 'Some were unsure about adding a penis – but why not? If you sell boobies you should sell a penis.'
The Bao Valentine's box includes two boobs with a molten-chocolate and cherry filling, and one penis filled with a molten white-chocolate filling. What better way to show your love?
INFORMATION
Melina Keays is the entertaining director of Wallpaper*. She has been part of the brand since the magazine's launch in 1996, and is responsible for entertaining content across the print and digital platforms, and for Wallpaper's creative agency Bespoke. A native Londoner, Melina takes inspiration from the whole spectrum of art and design – including film, literature, and fashion. Her work for the brand involves curating content, writing, and creative direction – conceiving luxury interior landscapes with a focus on food, drinks, and entertaining in all its forms