Good news: Shreeji Newsagents Reopens
The iconic Chiltern Street shop gets reimagined as a multifunctional cultural centre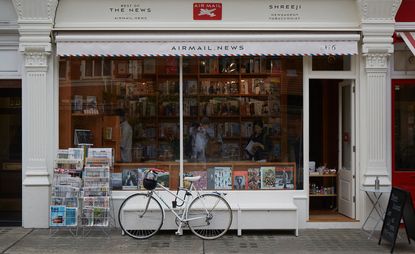 (Image credit: Billal Taright.)
Technology has served us well during the lockdown. Even the most hardened Luddites among us have reconciled with digital meetings and experiencing much of our lives through a screen. But as we emerge from the months of necessary house arrest, the human longing for the physical world is revealed.
There is a renewed appreciation of simple pleasures; of people and places, and things we had taken for granted, or even thought we didn't need anymore - one of them being paper itself. The satisfying heft of a magazine or a book - its feel and smell, and the physical act of riffling through pages, is an experience that many of us find we are reluctant to let go.
Even better when you find yourself comfortably seated in a beautifully curated environment, designed for the appreciation of print, with coffee and cake to hand, as well as the cornucopia of journalism for which Shreeji News and Magazines is deservedly famous.
The specialist newsagent, founded by Sandeep Garg, has been a familiar and reassuring sight on London's Chiltern Street since 1982.
Garg has now entered into partnership with husband and wife duo, developer Gabriel Chipperfield, and curator Laura de Gunzburg - who consulted on the interior design through her company The Artichoke. The original floorplan has been re-designed by Chipperfield's Selected Work to create a multi-functional space encompassing a shop, salon, reading room, and coffee bar, as well as an event area.
In addition to news and magazines, new and vintage items of furniture, tableware, and lighting are available to buy at Shreeji's salon, which will also see collaborations with Gagosian, and the launch of a series of breakfasts and gatherings where creatives will be invited to share their ideas.
The heritage of Sandeep Garg's iconic newsagent has been preserved and reimagined as a cultural centre that celebrates art, design, and print in its many forms. Long may it last.
INFORMATION
Receive our daily digest of inspiration, escapism and design stories from around the world direct to your inbox
Melina Keays is the entertaining director of Wallpaper*. She has been part of the brand since the magazine's launch in 1996, and is responsible for entertaining content across the print and digital platforms, and for Wallpaper's creative agency Bespoke. A native Londoner, Melina takes inspiration from the whole spectrum of art and design – including film, literature, and fashion. Her work for the brand involves curating content, writing, and creative direction – conceiving luxury interior landscapes with a focus on food, drinks, and entertaining in all its forms