How Rochelle Canteen and St John redefined the London restaurant scene
Margot and Fergus Henderson revolutionised the British culinary landscape with their respective restaurants, Rochelle Canteen, founded in 2006, and St John, founded in 1994. Creative friends and family share recollections of how it happened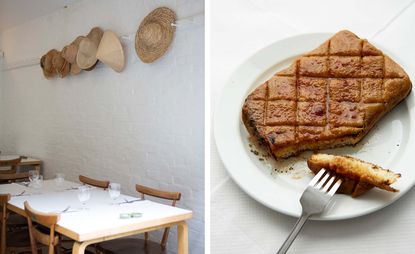 (Image credit: Left: Rochelle Canteen / Right: Sam A Harris)
Britain's culinary landscape has few brighter stars than Margot and Fergus Henderson. Fergus pioneered nose-to-tail cooking at St John in London's Smithfield, inspired a generation of chefs to think differently about menus and ingredients, and drew in the great and good of the art world. Margot parlayed a groundbreaking catering business into Rochelle Canteen in nearby Shoreditch, equally venerated for its honest approach to produce and its stature as a hub for east London's creative community. As part of the couple's guest editor takeover of Wallpaper's October 2022 issue, Carouline Roux explores the story of their two restaurants as told by their family and friends.
Rochelle Canteen and St John, two restaurants that have changed London dining
Fergus Henderson was born in a basement flat in Chelsea, west London, in 1963; Margot Clayton was born 11,000 miles away and one year later in the suburbs of Wellington, New Zealand. Both had cooking in their families. In Margot's case, her mother wrote books about restaurants in Wellington and Christchurch and introduced the family to delicacies such as frogs' legs and flambéed oranges from an early age. At home, though, the diet was cultishly healthy, leading the young Margot to concoct her own white sugar treats: meringues, jellies, biscuits and toffee. Fergus' parents, both architects, were inspired by the Italian cookery books of Marcella Hazan and trips to France. 'We grew up with big lunches,' says Fergus' sister Annabelle, younger by 18 months and herself an architect. 'When we went on holiday, we'd drive around looking at buildings and eating. It was how we explored a foreign country.'
By the early 1990s, Margot was living in London, working her way round its most fashionable restaurants, including The Eagle, London's first gastropub, and the nearby Quality Chop House (a design-world favourite – Peter Saville rarely ate anywhere else). Meanwhile, Fergus had completed seven years of studies at the Architectural Association, but ever more at home in the kitchen, converted himself into a chef of rigorous convictions. Then Fergus met Margot.
Here, family and friends from every part of London's creative community tell their story…
Annabelle Harty, sister of Fergus. Runs architecture practice Harty and Harty with her husband Stephen:
Fergus and I have always been best friends. No rivalry, no discord. We grew up in a big puddle of being happy in Regent's Park, though Fergus was disastrous at school. He was so dyslexic, he could hardly read or write, though he was always opinionated. Luckily, entrance to the Architectural Association was by portfolio and interview, so he got in without a problem. We had a tiny flat in King's Cross, and had tons of terrifically hungover people over every Sunday. The only shop open was Terroni's, an old Italian deli, on Clerkenwell Road, so it was always pasta. I did go on to be an architect, but Fergus never practised. He started working in restaurants instead – at Smith's in Covent Garden, then The Globe in Notting Hill.
Hugh Fearnley-Whittingstall, chef and food campaigner:
I first encountered Fergus at The Globe. It was a bit of a shebeen and we'd go there late – at 11 or midnight. I only discovered the food later. Sometimes you could have a snack of leftover pork, like an early version of pulled pork. I first tasted sea urchins there: a friend of Fergus would bring them over from the Irish Aran Islands, and they were so sweet. You just ate them like that. It was a good example of Fergus saying: you don't have to do anything to these things.
James Moores, owner and developer of Rochelle School. Runs Linley Farm with wife Diana Guinness, providing organic meat, vegetables and fruit to St John and Rochelle Canteen:
I met Fergus when I was 18 or 19, 40 years ago, skiing in Zermatt. We were in a nightclub and the girl I fancied, fancied him.
Sadie Coles, founder of contemporary art gallery Sadie Coles HQ:
I went to First Floor, a restaurant above a pub on Portobello Road, on the day it opened, I guess in the early 1990s. This fantastic redhead came out of the kitchen where she'd been making amazing food. That was the first time I met Margot. She was so chatty and clearly talented. Next time I saw Margot was in The French House in Soho. Fergus and Margot had started cooking there in 1992.
James Moores:
[Music producer] Simon Miller Mundy, a lovely man, knew Margot and Fergus, and was convinced they were made for each other. He got them together for a meal and Fergus pretty much wanted to marry her before they'd finished eating.
Max Wigram, independent investor, owner of The Three Horseshoes pub in Batcombe, Somerset:
You forget what food was like in London then – mostly dull and uninspired. Then people like Margot and Fergus came along and just did what they wanted, and changed things. I've known Margot since I was 17 or 18. She's always had a natural ease to what she does and a fabulous love of life. When Phoebe [Philo, Wigram's wife] was creative director at Celine, Melanie and Margot did quite a few events for her. That's why I talked to her about my pub, The Three Horseshoes, as soon as I'd signed on the line. I wanted it to be really good, with no poncey rubbish, and that's what Margot does.
Annabelle Harty:
The French House was game-changing for both of them. Fergus had been a cheeky, opinionated architecture student who was passionate about food. Margot was a proper, grafting chef and she pulled him together. She taught him how to be a chef properly. He was still quite immovable in his views and his methods, though. She'd say, 'let's do a nice roast chicken' and he'd say 'not ever'. I think Margot let some of her ideas go, because he was so stubborn. But between them, they made something new. Artichoke with vinaigrette felt radical on a menu back then.
Melanie Arnold, co-founder, with Margot, of Arnold & Henderson:
Jon Spiteri, my then-husband, worked with Fergus at The Globe. I met Margot when Fergus brought her to our wedding in 1994. I didn't have anything to do with restaurants. I'd trained as a conservator of works on paper at Camberwell College of Arts, and I'd been working at the Tate producing posters.
Trevor Gulliver, co-founder of St John:
My business was making mobile merchandise – we followed bands around and sold T-shirts. I got into restaurants as a customer. I'd go to Langan's a lot, and new chefs like Alastair Little were beginning to change the way we thought about food in London in the 1980s. I opened The Fire Station in Waterloo in 1990 in a decommissioned fire station. We designed it ourselves and installed the first open kitchen in London. We got old furniture from auctions and served wine with names no one recognised. When I got offered a lot of money for The Fire Station in 1993, I sold up. And then I met Fergus. I'd been offered the buildings at 26 St John Street, which had been a smokehouse. It took a lot of work to get the grease off the walls.
Melanie Arnold:
When Jon and Fergus went off to start St John with Trevor Gulliver, it seemed crazy to let The French House go. So I teamed up with Margot, I took on front of house and had to learn everything. We both had young children, but it was exciting. I lived in Broadwick Street in Soho, and Margot lived in Earlham Street in Covent Garden, so we didn't have far to go. Margot was making wonderful food – confit duck leg and carrots, quails with lentils. But she brought the vegetable aspect, too, in dishes that were delicious in their own right, and not a 'vegetarian option'. Regulars would come in several times a week, like they do now at Rochelle Canteen, because this is healthy food. It's very clean and not too rich, and you can eat it every day.
Trevor Gulliver:
I used to say, a great restaurant is about where it sits on the street. But also, where you had that important meeting, where you took your wife to dinner. A regular can be someone who comes once a year. That can take five years to establish and you don't have that luxury these days. Now it's all about share prices and exit routes. In the first five years at St John, it was tough because of the rigour of how Fergus wanted to cook. People would tell us to do set menus, or put on pasta, but all that did was make us more determined to follow our beliefs. It took a lot of patience. But eventually people came because they wanted to. We started baking our own bread, and eventually making our own wine in the Minervois – we own a vineyard in the Black Mountains.
Alice Rawsthorn, author of Design as an Attitude and co-founder of Design Emergency:
When St John opened in October 1994, the menu read like a manifesto. Fergus' commitment to nose-to-tail cooking and eating was wholly uncompromising. Nowhere else served braised brains, bone marrow, squirrels and long-forgotten working class dishes, like faggots [meatballs, typically derived from offal] and Eccles cakes. St John was polarising then. People either loved it or loathed it. Some of my friends refused to go there, claiming it was too offally. Others, like Jasper Morrison, refused to eat anywhere else.
Peter Doig, artist:
I'd graduated from Saint Martin's and was part of a unit at the AA in 1985, where I knew Fergus. I went to St John early on, and it became a meeting place for artists and their acolytes – especially the bar, as not everyone could afford dinner in those days. The St John Bar really is an amazing room, with its high ceiling, and we liked the fact that there was no art on the walls.
James Moores:
When Peter Doig won the John Moores Painting Prize in 1993, with his painting Blotter, we had Fergus come to Liverpool to do the dinner. He cooked up a really local menu of scouse [a chunky meat stew] with red cabbage and Lancashire cheese with Eccles cakes. He made lovely aprons, too – white, with 'John Moores Prize' in red.
Sarah Lucas, artist:
I had a studio around the corner from St John, on Clerkenwell Road, with my then partner Angus Fairhurst. In those days, the city was very much a business place, dead as a doornail at weekends and full of suits all week. One of the great things about St John was the bar, separate from the restaurant but you could still eat there and it was open on Saturday evenings when all the office types weren't around. It did seem pretty radical, an eye-opener I'd say. The menu: mince and tatties, chitterlings, swede cake, with greens and boiled potatoes on the side. And the décor was very spartan and white and functional. You felt a distinct and very original sensibility at work. A bunch of us – me and Angus – did steal a few bottles one night after dinner. The wine used to be in a room under the stairs on the way to the toilets. It had a barred gate, but it was left ajar a lot of the time. It must have been a Saturday and we decided to go back to our studio, which was more like a living room, with friends to continue the party. It just seemed the obvious thing to do really, take a few bottles with us. We were found out later. I don't remember if we had to cough up for them, but we didn't get barred.
Sadie Coles:
It was the clarity of Fergus' cooking that was so remarkable. Maybe just two ingredients with some really good bread.
Hugh Fearnley-Whitingstall:
Most chefs were falling over themselves to show you how skilful and imaginative they were. But there are two restaurants in London that have consistently focused on the fundamental beauty of the ingredients themselves: River Café in the west and St John in the east. They're still the most memorable restaurants of the last 30 years. Other restaurants have come along and dazzled us, but these are the two that get to the truth of a dish.
Melanie Arnold:
Sadie Coles was one of the first people to ask Margot and I to cater an event for her. The kitchen at The French House was small, so we used Margot's flat, and then we packed everything into the back of her car. When the owner asked for his first floor back, we carried on doing events. I bought a laptop and did the admin from home.
Sadie Coles:
We quickly ran out of places to do gallery dinners and then discovered that Melanie and Margot knew all these odd spaces you could rent in London. It became our preferred way to do things. You could take a secret space and it showed your artists that you'd really thought about it. One event was for Sarah Lucas and Rudi Stingel at the Savile Club in Mayfair (they both had shows opening) with a big dinner and then dancing. I think Andrew Hale [composer and keyboard player with Sade] was DJing. Margot booked us rooms so we could stay late. There were cigarettes in jars, because Sarah loved to smoke, and we ate puffball mushrooms, which was Sarah's special request.
James Moores:
I'd started the Liverpool Biennial in 1998, with Jane Rankin Read, Lewis Biggs and Bryan Biggs. I felt that if it was going to succeed, it also needed a London outpost. A lot of people were living in the East End by then, and I got to know about Rochelle School, which is quite unique, inside the Boundary Estate with its Dutch-style architecture. I got in touch with the person who owned it and at first he wasn't interested. Then he got back to me and said he wanted to sell. What he didn't tell me was that it had been taken over by an anarchist group of squatters. They had tepees and buses parked in the garden. When we finally managed to get access, we made the main building into studios, and invited creatives including fashion designers Luella Bartley and Giles Deacon, and choreographer Michael Clark to be based there. Melanie and Margot started using a space for their catering, and later I turned the old bike sheds into a canteen for the studios. We put in quite a good kitchen, and gradually more people came.
Alcides Gauto, maître d' at Toklas. Front of house at Rochelle Canteen, 2007-2016:
I went to a party at Rochelle, and then I started working there. We didn't take bookings, people just rang the bell on the gate outside – if they could find it! But once they did, it was like magic. You walk through the gate and across a garden full of flowers. It's like nowhere else in London. Rochelle was like a big family. You knew everyone. Katie Hillier, the accessory designer, and [artist] Goshka Macuga had a studio there. There were people from the neighbourhood, like Alice Rawsthorn. But there was also a guy who dealt in kitchen equipment, a real East Ender, who came in every day. He just liked eating good food.
Lee Tiernan, founder of Black Axe Mangal. Various roles at St John, then head chef at St John Bread and Wine, 2003-2013:
When I started working at St John, I was green. I was very keen, but I was a clean sheet. I grew up on a housing estate in Mitcham, in south London. For a special occasion, we'd go to the Samrat curry house in Tooting. I even had an aversion to food as a kid. I'd been at catering college and had to do a stage [unpaid internship] when I finished. I'd heard about Fergus from reading Anthony Bourdain's book [Medium Raw]. I didn't want to work for anyone who was going to shout at me or belittle me. I didn't do well at school because I was dyslexic, but when I started cooking, I realised I had found something I could be obsessed with. My first job was boning out an entire sirloin. It must have been horrifying for the chef to watch me. But everyone there had infinite patience. No one ever shouted at me. That came from the top and was propagated by the team.
Anna Tobias, founder of Café Deco. Sous chef, then head chef at Rochelle Canteen, 2013-2020:
I'd been at the Blueprint Café with Jeremy Lee, and at the River Café, but I wanted the British thing. I chose Rochelle for a number of reasons. I was going in as a sous chef, I wanted more responsibility. Possibly because it was run by a woman. And I was interested in the outside catering: it was another thing to learn. We did some amazing parties, so glamorous and often abroad. There was one in Paris for Miu Miu in some palace.
Alcides Gauto:
We travelled a lot. The best job I did was a two-day event at Anselm Kiefer's studio campus in Barjac in the Ardèche. We went to the nearest town to shop at the market and devise the menu. About 140 people from the art world flew in specially. At around 10pm on the second night, I escaped to the campus where all the studios were open, and I was the only person around. It was amazing. Not really a job, more a cultural education.
Lee Tiernan:
St John has real rigour. And I love it. It's like a Chanel suit, always a million bucks. At Bread and Wine, I was allowed a little bit of leeway, though I would always run ideas by Fergus. I'd have him try something and it would be an 'uh' or an 'oh', but you could gauge what he meant. Or he'd say, 'it's too racy'. I wanted to revisit the devilled crab once and he definitely wasn't having it.
Anna Tobias:
Margot is underappreciated for her generosity in letting head chefs express themselves. I'm half Serbian, so we'd do stuffed cabbage leaves with pork or mutton and rice, lots of dill and paprika, and sauerkraut that we'd make ourselves.
Annabelle Harty:
Margot's cooking has femininity – a lightness and freshness that makes it irresistible. She maybe has more freedom in how she cooks, with some European references. She would call something taramasalata, while Fergus would call it cod's roe. Now Hector [Fergus and Margot's 28-year-old son] is having an influence at Rochelle. He does things with humour or a fabulous twist – fried chicken that's actually brains. I see things on the menu and I think, that's Hector.
James Righton, musician, husband of actor Keira Knightley:
Keira and I lived around the corner from Bread and Wine. I got lured in by the brownies and doughnuts, but St John turned me from a fussy to an adventurous eater, though there's never a lunch at St John that doesn't include Welsh rarebit and Eccles cakes. Margot is the person I always want to hang out with at a party. I've never seen anyone do splits on the bar quite like she can. Fergus is just a beautiful man, one of the most inspiring people I know, with a real glint in his eye. A few years ago, I got a midweek morning call from Fergus. 'Lunch. Lobster.' Off we went to St John. No is not an option.
Molly Goddard, fashion designer:
I'll always have Welsh rarebit, brown shrimp salad, and bone marrow at the St John Bar. It's a place where you know you'll bump into people. It's how I imagine things before Instagram. You never see people on their phones there. I love its industrial simplicity. I even have St John wine glasses at home.
James Righton:
Our wedding was meant to be a small affair, with baked potatoes. But after a 12-hour lunch with Margot at a mutual friend's house, it had become a Melanie and Margot feast. They flew to Avignon a few days before, and sourced the best local ingredients. The produce was all Provençal, but the spirit was pure Rochelle. Big sharing plates of guinea fowl and artichokes. No fuss. Just conviviality and celebration. But my lasting image of Margot and Fergus is at a friend's wedding in Denmark a few years ago. We'd danced all night and dawn broke, and everything was quiet. Then out of the mist, Margot came cartwheeling down the hill, with Fergus rolling after her. A mass of striped suits and red hair with massive grins on their faces. They know how to have a good time.
INFORMATION
A version of this article appears in the October 2022 Legends Issue of Wallpaper*, available in print, on the Wallpaper* app on Apple iOS, and to subscribers of Apple News +. Subscribe to Wallpaper* today
Receive our daily digest of inspiration, escapism and design stories from around the world direct to your inbox