David Adjaye designs decanter for 80YO single malt Scotch
David Adjaye designs a decanter and case for the oldest single malt Scotch whisky ever bottled, Gordon & MacPhail's latest batch of Glenlivet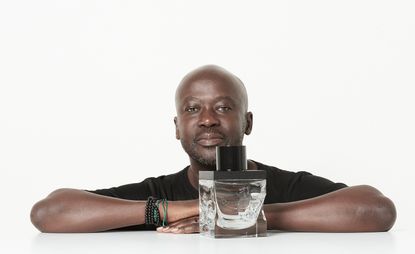 (Image credit: press)
When Sir David Adjaye drinks, there are no half measures. 'One of my uncles is a huge whisky fan in Ghana,' he tells me via Zoom. 'West Africans brew all these high-octane things – they call it akpeteshie. Very DIY, but very loved. Whisky feels like something that's really engaging with the body; I love that fire that goes down you. It makes you feel so alive.'
It seems, then, that far from being a surprise move, the RIBA Royal Gold Medal-winning architect's newest project – designing the case and decanter for the oldest whisky ever to be freshly bottled – makes complete sense.
In 1940, in Elgin, north-east Scotland, 26 years before Adjaye was born, father-and-son whisky team John and George Urquhart were considering the latest batch they had acquired from Glenlivet Distillery. John had worked his way from apprentice to sole owner of Gordon & MacPhail, one of Scotland's finest bottlers. Their decision to put aside a cask of Glenlivet for 80 years, knowing they would never taste it, took experience, foresight, and a little madness.
Stephen Rankin, director of prestige at Gordon & MacPhail, and fourth-generation member of the Urquhart family, explains that the pair weren't averse to forging a path: 'You can release a blend when it's three years old, but in the 1970s, George released Macallan whisky from 1937, for £4.50 a bottle. It's worth tens of thousands of pounds today.'
The result of this long-term thinking is Gordon & MacPhail's latest release: the Generations 80 Years Old from Glenlivet Distillery, the oldest single malt Scotch whisky ever bottled. Maturation is a delicate art, especially when dealing with a spirit as rare as this, and decades of judgement has paid off.
The 80YO, at an astounding 44.9 per cent ABV, is remarkably multifaceted. Each sip of the amber liquid brings forward new notes, from citrus to vanilla and leather. While requiring astronomical restraint, leaving a drop in the glass overnight to revisit the next day brings its own rewards of lingering fragrances that transport you to a comfy corner in an old library.
Generations of craft
There's a smokiness here, missing from most Speyside drams, that's linked to the whisky's age: distillers in 1940 would malt barley on site, creating more varied flavours. Decades on, the 80YO's light smoke settles into the background, elevating the lighter notes at the forefront. It's magnificent, the result of generations of care.
Adjaye's pavilion-like oak enclosure, crafted at Wardour Workshops in Dorset, pays homage to the wood that made this whisky possible. When the oak tree harvested to make the cask first sprang to life in 1840, Queen Victoria had just married Prince Albert.
A century later, after housing mosto (pressed grape juice), sobretables (newly fermented wine) and sherry, Cask No. 340 was sent from Spain's Jerez to Elgin, to be filled with Glenlivet's best spirit, made rarer by the wartime rationing of barley.
David Adjaye on his decanter design
There's an enigmatic nature to Adjaye's case, with only narrow slits in the front teasing at the interior. Innovative hinges click open to reveal the crystal decanter inside, topped with darkened oak to connect the whisky with the wood to which it owes its flavour. Individually hand-blown at Scotland's Glencairn Crystal Studio, each decanter is encased by thick glass and two cut lenses, both magnifying the liquid inside and helping you keep a firm grip.
'I've been obsessed with glass for a long time,' says Adjaye. 'It's another world. There are certain proportions and certain flows: bottles follow some crazy laws. I did everything just to slow you down. I basically want you to really appreciate it – I don't want you to casually pick it up. Please give it some respect, pick it up with two hands, watch the liquid slowly descend.'
This considered approach has been key to the work of Gordon & MacPhail for generations. 'It's all about the long term,' says Rankin. 'We're not looking at how things will look for the fifth generation, it's how it'll look for the sixth, seventh generations.'
Adjaye, too, takes the long view: 'I think that within five years, if you're not doing anything meaningful about sustainability, your business is going to suffer, no matter how good your brand is,' he says. 'For younger generations, it's not even a conversation. "How are you not thinking about this? Are you mad?" They'll be laughing at us; we'll be like the tobacco industry.'
To this end, Gordon & MacPhail supports the local charity Trees for Life in its mission to rewild the Caledonian Forest and, along with Adjaye, has committed to similar projects in West Africa. Proceeds from the sale of decanter #1, due to be auctioned at Sotheby's Hong Kong in early October with an estimate between £80k and £140k, will go towards the Trees for Life nursery, which grows 100,000 native and rare trees (including oaks) from seed each year.
Time and patience are concepts that seem in short supply in the modern world. For the fields of architecture and whisky, they're two of the most important. With this project, the disciplines have combined to create a product that respects the past, embraces the present and focuses on the future. Not bad for something that's been sitting around for 80 years.
INFORMATION
Public showcases of the Generations 80 Years Old will be held in London, New York and Hong Kong as part of Sotheby's 2021 Hong Kong Autumn Sales Series preview exhibition
Receive our daily digest of inspiration, escapism and design stories from around the world direct to your inbox