Roll with it: Sebastian Cox crafts a woven drinks trolley for The Glenlivet
Sebastian Cox crafts a woven drinks trolley for The Glenlivet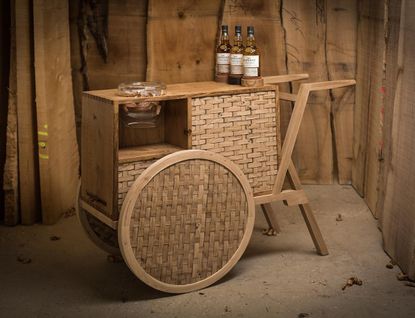 (Image credit: TBC)
The Glenlivet's new whisky might have just found its perfect pairing partner in British designer Sebastian Cox. The young craftsman has concocted the ultimate drinks trolley to mark the launch of The Glenlivet (opens in new tab) Nàdurra Peated Whisky Cask Finish.

Inspired by the traditional barrow originally used in the distillery to turn and transport malt, Cox has realised the striking piece in his signature wood weave, with large 'barrow' wheels made from oak staves from retired casks. It's a special piece that evokes the spirit of nàdurra – the Gaelic word for 'natural' – especially in it use of warm materials, such as peated oak and cherry wood.

'The importance and influence of wood on the whisky was fascinating to me and I took inspiration from this in creating both the trolley and the tray,' explains Cox, who embedded himself with the craftsmen at Glenlivet's distillery as part of his research.

Complementing the trolley is The Glenlivet Nàdurra Dram Tray, which is designed to house two glasses and a bottle for enjoying The Glenlivet Nàdurra at home. The designer continues, 'I am pleased to present two unique handmade items that embrace the complexities and sensual attributes of nature in a truly elegant form and hope they will inspire people to relish the ritual of enjoying a dram.'

Cox also received a helping hand from London-based glass artist Michael Ruh (opens in new tab), who contributed a lovely hand-blown glass vessel to hold ice and water, complete with a copper spinner and floating wood shavings.

The original trolley will be on display for a limited time at The New Craftsmen in London – where made-to-order pieces are also available – before moving to its new home at The Glenlivet Distillery in Scotland.
Watch the making of The Glenlivet Nàdurra Drinks Trolley...
INFORMATION
A limited number of The Glenlivet Nàdurra Drinks Trolley will be made-to-order from The New Craftsmen (opens in new tab), £4,200 each, exclusively for those who have registered as Guardians of The Glenlivet. The Glenlivet Nàdurra Dram Tray, £120 each, is also available to purchase separately
ADDRESS
The New Craftsmen (opens in new tab)
34 North Row
London W1K 6DG
VIEW GOOGLE MAPS (opens in new tab)