Vitsoe opens a new outpost in Munich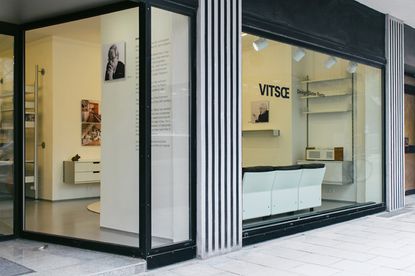 (Image credit: press)
Wallpaper* Newsletter
Receive our daily digest of inspiration, escapism and design stories from around the world direct to your inbox
Thank you for signing up to Wallpaper. You will receive a verification email shortly.
There was a problem. Please refresh the page and try again.
Furniture store Vitsoe opens an outpost in Munich's Kunstareal district today, opposite Sauerbruch and Hutton's Brandhorst Museum. The new space is an aptly handsome showcase for the brand's flagship product - Dieter Rams' iconic '606 Universal Shelving System' - and follows hot on the heels of Vitsoe's announcement that it has acquired the exclusive worldwide licence for Rams' designs.

This licence is a boon for the brand, with the name Dieter Rams being pretty much legend in design circles - standing for a disciplined, reduced, yet democratic design approach that now extends (as legends tend to do) way beyond the designer's own oeuvre. While he is mainly know for his stint as chief designer at Braun for most of the second half of the 20th century, Rams also found time to design a whole furniture range produced first with Otto Zapf and later Niels Vitsoe from the early 1960s until the 1980s.

Times and tastes changed, and Vitsoe (pronounced 'Vitsoo') was sold to Mark Adams, an enterprising and devoted design admirer based in London. A company called sdr+ also retained production and sales licences for Dieter Rams designs in Germany and mainland Europe. Whereas Vitsoe in London stripped everything back to the essentials and spent the next 20 odd years perfecting just one product, the 606 Shelving System, sdr+ went on producing the shelves in different colour variations and a number of other products that they added to those designed by Dieter Rams (the name stands for 'System Dieter Rams plus others'). However, as of 1 January 2013 Rams handed over the full and exclusive rights for the production of his furniture worldwide to Vitsoe to 'ensure that my furniture is in the best hands for the years ahead'. A tough blow for sdr+, but a coup for Vitsoe, which is now able to open a shop bearing its name in Germany for the first time in almost two decades.

At the Munich store, would-be customers can browse the 606 Universal Shelving System's modular variations and consider whether to embark on the lifetime relationship that this piece of furniture appears to demand of its owners who, once committed, tend to use words like 'heirloom' and 'investment' when they talk about it. This is appropriate, because it certainly doesn't come cheap, but what it does come with is an informed, patient and courteous sales and instalment support package that extends the feeling of having a personal, bespoke relationship with both company and product that is built to last, just as Dieter Rams always intended.

Until now, Vitsoe has sold only one product, the 606 Shelving System, but after several years of cautious and painstaking redesign work under Rams' watchful eye, it is now re-issuing the designer's 620 armchair programme from 1962, so fans of the flexible, minimal shelving design can now look forward to an appropriate lounge option from which to admire their timeless powder-coated design masterpieces in all their long-lived glory.
We caught up with Mark Adams, Managing Director of Vitsoe ahead of the Munich opening...

The manufacture and retail industries are in the throes of massive change. Is opening a high street shop not a retrograde step in times like these?
The web is bringing that change; for 15 years we have been using this medium as a means to allow closer contact with our customers. The combination of our own shops and the web enhances that closeness. In our opinion - and according to our customers - this is the future, not the past.

Why did you choose Munich for your first store in Germany?
The cultured city of Munich has always been a good market for Vitsoe.

Are you planning more stores? In which countries?
We are already in London, New York and Los Angeles, and we opened in Tokyo in December 2012. Now we are opening in Munich. In this 100th year since our founder Niels Vitsoe's birth, we will soon be announcing an arrival in his home country of Denmark. Then we will pause for a short while.

What can we expect from the 620 chair redesign that is now available once again from Vitsoe?
Higher quality, a lower price and quicker delivery. The chair programme has been entirely re-engineered; not a single screw has been left untouched. The result is a chair that, on first glance, looks the same but on closer inspection is almost entirely changed. We strive at Vitsoe - every day - to be better rather than newer.
ADDRESS
Vitsoe München
Türkenstrasse 36
80799 München
Receive our daily digest of inspiration, escapism and design stories from around the world direct to your inbox