Virgil Abloh remixes Vitra classics for tomorrow's homes
The prolific polymath opens new installation 'TWENTYTHIRTYFIVE' in Zaha Hadid's Fire Station on the Vitra Campus, Weil am Rhein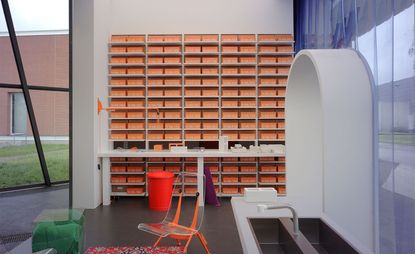 (Image credit: Julien Lanoo)
It's June again, time for the annual international gathering in Basel of lovers and dealers from the worlds of art and design. And just like every June, one if the highlights of these few days is the Vitra Summer Party in neighbouring Weil am Rhein. Usually the weather plays along and for one long, balmy summer evening each year, several thousand guests make merry on the green sward between the furniture company's collection of exemplary architecture by exemplary architects, like ants enjoying a box of chocolates at a picnic.

This year's party has a special guest DJ: the American engineer, architect, designer, fashion designer, artist and (is there anything he can't do?) artistic director of Louis Vuitton menswear, Virgil Abloh. The DJ set is just a rather excellent bonus, however, because Abloh is actually here to celebrate the opening of his new installation 'TWENTYTHIRTYFIVE' in Zaha Hadid's Fire Station on the Vitra Campus, as well as unveil three new limited edition products he has been developing together with Vitra.

It is an understandable pairing: the creative world's favourite new multidisciplinary, genre-bending deconstructor and reconstructor of narratives who says 'modernity is something I believe in'; meets a manufacturer with a strong modernist heritage that has a talent for identifying and embracing the avant-garde. What is interesting is that the resulting collaboration is not targeted towards the majority of revellers on the Vitra Campus but towards 'the emerging generation'.
'TWENTYTHIRTYFIVE' is a two-part immersive installation about how, in Abloh's view, our environment influences our life paths and taste decisions. The first section, 'Past/Present', is about the interaction between a young person and their home surroundings. There are familiar objects here, some original like a vintage Jean Prouvé children's desk and Eero Aarnio's 1968 Bubble chair. Others have been remixed, such as an Eames bench converted into a see-saw and a pair of Nike Jordans reworked by Abloh's Off-White label. The second section, 'Tomorrow', is a speculative workshop/living environment for the same individual as an adult in the year 2035. In Vitra CEO Nora Fehlbaum's words: 'The teenager has become a creative "do-er" who transforms his memories and cultural and social experiences into his own products…'

The exhibition is clearly autobiographical in nature. This borrowing and remixing that Abloh does right across his immense creative output reflects the highly eclectic nature of contemporary cultural context. Thanks to the heterogeneous worlds opened up by smart phone technology and ubiquity it becomes increasingly difficult to work out where we come from and who we are. If design is about problem-solving, perhaps the problem Abloh is attempting to solve with his work is the danger of the aforementioned emerging generation having no context, no individual narrative, and he is trying to help them construct one. But he sees the results of this heterogeneity in a positive and affirmative light: 'For me, there's a generation at hand that has a different aesthetic,' he says, 'for me it's an art movement'.
Three objects from the 'Tomorrow' section of the exhibition have been produced by Vitra as a limited edition series, test runs if you like, for what looks like a bigger, more commercial collaboration to come: 'Knowing our personalities', says Abloh, smiling across at Nora Fehlbaum, who smiles back, 'it would be a short conversation to open this up to not be a limited thing. If you think I just wanted to make three things, then times that by six'. There is clearly chemistry there. 'I was interested in Virgil's perspective on our collection,' says Fehlbaum. 'Virgil has this access to a much wider, much younger audience than we have here with the design elite'.

For now though, the editions comprise two remixes and a new piece: Jean Prouvé's Petite Potence lamp gets a contemporary utilitarian coat of bright orange lacquer and an LED lamp in a cage. Prouvé's Antony chair also gets an orange lacquer update ('orange is a hazard colour…you want it to punch') and a transparent plexiglass shell-seat to draw all focus to the structure. In the installation, there is a wall of 999 hollow, glazed ceramic blocks – each one individually numbered. These too are an edition and can be bought and taken away from the show. Thus, the viewer can also alter Abloh's vision of 'Tomorrow'.

Perhaps the most important result of this collaboration between the polymath from Chicago with Ghanaian heritage and this prestigious furniture manufacturer will be, as Abloh comments, that his working with Vitra 'is going to open the door to a number of my contemporaries who don't think that door is even open.
INFORMATION
'TWENTYTHIRTYFIVE' will be on show from June 12 – July 31 in Zaha Hadid's Fire Station on the Vitra Campus in Weil am Rhein, Germany before moving to Vitra's new New York showroom in the autumn. For more information, visit the Vitra website
Receive our daily digest of inspiration, escapism and design stories from around the world direct to your inbox