Design highlights at Venice Architecture Biennale 2018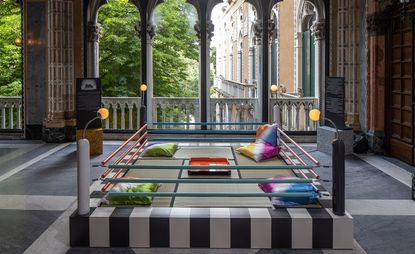 (Image credit: press)
Venice isn't just about architecture right now. Returning for the second time is 'Design.VE: design walks through Venice', which runs in parallel with the first month of the international architecture biennale. Organised by Venice Art Factory in collaboration with Generali Italia, this design festival consists of 18 individual exhibitions staged by brands, designers, museums and academic insitutions that take place in palazzos, churches, cultural centres and smaller venues around the lagoon city from Castello to Cannaregio.
In addition to this initiative, there are other satellite design shows running in tandem with the architecture biennale. Design may not be the main attraction, but from Memphis surveys to experimental fashion artefacts there's plenty going on to whet the appetites of design lovers. Here are our highlights.
Kosmogonos-Come into a New State of Being, a project by WonderGlass in association with Zuecca Projects
It's a rare treat to see inside the 16th-century Chiesa dell'Ospedaletto and the Renaissance-style setting proves a lavish, historical counterpoint to the luminous WonderGlass pieces on display. On show here are 'Horah'. Arranged around the altar, these kinetic lighting pieces by Raw-Edges are inspired by the traditional Israeli dance and were launched during April's Salone del Mobile.
Meanwhile, another London-based practice, studiopluz, exhibits two works: 'Echo' a sound and light sculpture; and at the centre of the space, 'Urban Reflection', which consists of multicoloured glass blocks arranged like a maze on a reflective surface, calling to mind a metropolis on water. Until 23 June, 11am-7pm every day, closed Mondays. Santa Maria dei Derelitti/Chiesa dell'Ospedaletto, Castello, Barbaria delle Tole 6691
Why-What-Who/10 Years of Fashion Artefacts
This fascinating survey is a review of work by 21 alumni and three tutors spanning a decade of the pioneering and provocative incubator that is the London College of Fashion's Fashion Artefact MA course led by Dai Rees. The exhibition is curated to showcase four areas of research and studio methodologies the post-graduate students have engaged with over the past decade: heritage and craftsmanship, performative body and prosthetics, product and manufacture and artefact as political voice.
For anyone who lived through the 1990s there is something here wonderfully reminiscent of the disruptive performative spirit of the late Leigh Bowery. Although the body of work is diverse – from Mirja Pitkäärt's smooth-as-pebbles leather accessories to Sarah Williams's surreal leather luggage and Una Burke's extraordinary sculptural kneeling figure – every piece is sublimely crafted. It's no wonder many of the students were immediately snapped up post-course by luxury fashion houses such as LVMH. Go to discover the fashion provocateurs of the future. Until 17 June. Castello, Fondamenta della Tana 2010, 2011, 2109
Cedit Ceramiche d'Italia presents 'Ambienti'
Italian heritage ceramic brand CEDIT exhibits five ceramic collections, from Formafantasma's 2017 glossy ombre-effect Cromatica tiles to the more recent bold three-dimensional geometric Rilievi range in seven distinctive shades, by design duo Enrica Cavarzan & Marco Zavagno, aka Zaven.
Also exhibited are the angular Lapis vases, designed by Achille Castiglioni in 1968 and reissued by CEDIT in three sizes to commemorate the centenary of his birth. Until 8 July, open daily 10am-6pm. Campo Santo Stefano, San Marco 2828/A; ceditceramiche.it
Alcantara presents 'Multiforms: declinations between space and time'
The Italian manufacturer Alcantara engages with the concept of 'Freespace', the theme set for the 16th International Architecture Exhibition, for this exhibition, which investigates the connections between past and future, commissioning and experiencing. Curated by Davide Quadrio the exhibition comprises of three 'Alcantara specific' installations created in dialogue between th manufacturer and three designers: Krijn de Koning, Nanda Vigo and German design collective Zeitguised, all of which play with space and time while also distorting dimensional boundaries.
Set in Palazzo Rocca Contarini Corfù, visitors first encounter Krijn de Koning' deconstructed blue boxlike room. Next is Nanda Vigo, who looks back to the past and forward to an imagined future in her piece Arch/arcology, which consists of a series of sculptural installations based on original architectural drawings made by the architect and artist Paolo Soleri in the 1960s (below).
Finally, Zeitguised presents two geometrically complex videos based on a series of algorithms, while also providing viewers the comfort of two seats made of Alcantara from which to watch them. All pieces exist in paradoxical space, feeding viewers both a sense of familiarity and alienation. Open 10am-6pm Tues-Sun until 27 June. Palazzo Rocca Contarini Corfù, Venice; alcantara.com
WallpaperSTORE* pop-up
Far be it for us to blow our own trumpet, but on the Design.VE trail is the WallpaperStore*, which continues its series of global pop-ups with this compact outpost created in collaboration with design studio Zanellato/Bortotto, formed by ECAL alumni Giorgia Zanellato and Daniele Bortotto.
The interior is an 'homage to Venice and its recurring apocalyptic dilemma of acqua alta', with a backdrop of oxidised metalwork created by De Castelli. On show are vessels and tableware by designers including Lara Bohinc, Michael Anastassiades, Salvatori and Minimalux. Open 10am-7pm daily. Latteria Moderna Berti, Viale Garibaldi, Castello 1791.
Memphis-Plastic Field
Although this is not part of Design.VE, it's unmissable for anyone with an interest in 20th-century design, showcasing as it does an extensive collection of Memphis design. Whether you love it or hate it, the bold geometrics of Memphis clash brilliantly in this Venetian palazzo.
Co-curated by Adrian Berengo, a champion of Murano glassworks, and his long-time collaborator gallerist Jean Blanchaert, there are some extraordinary and rare pieces from the Eighties here, from communal seating Tawaraya Ring designed by Masanori Umeda in 1981 to the glamorous Plaza Vanity by Michael Graves and a confection of delicate glass vessels by Marco Zanuso, Michele de Lucchi and the movement's founder Ettore Sottsass. Don't miss the informative film documenting the movement, or Ai WeiWei's Gilded Cage, a giant al fresco installation in the courtyard. Until 25 November, open 10am-6pm, Fondazione Berengo, Palazzo Franchetti, San Marco 2847; fondazioneberengo.org
A Furnace in Marseille. Cirva
There are many reasons to visit San Giorgio Maggiore Island – such as Palladio's basilica and the fact that it's a woodland idyll away from the main throng – but this year you should also head over there for the Vatican Chapels, Pae White's sinuous glass-brick wall Qwalala and also an excellent exhibition currently at Le Stanze del Vetro.
'Furnace in Marseille. Cirva', co-curated by Isabelle Reiher and Chiara Bertola, encompasses a broad range of glassworks created by 17 different artists who have been residents of the Cirva (which stands for, Centre international de recherche sur le verre et les artes plastiques) workshop in Marseille. The infinite possibilities of glass are richly explored here from Larry Bell's 1970 work 'First & Last', an extraordinary large-scale exercise in minimalism, which is artfully preceded by Pierre Charpin's expressive early-Noughties series of 'Torno Subito' vases. Until 29 July, Isola di San Giorgio Maggiore; lestanzedelvetro.org
Receive our daily digest of inspiration, escapism and design stories from around the world direct to your inbox