They said yes: ringed installation engages Times Square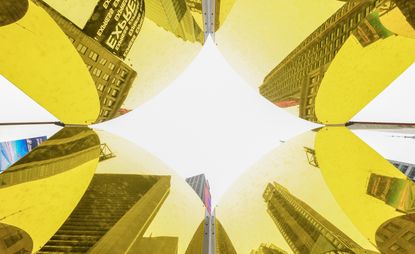 (Image credit: John David Todd)
If New Yorkers 'love' Times Square it's well-concealed, and more akin to the love/hate theme of Shakespeare's Taming of the Shrew. Anyone who has fought through umbrella-wielding masses as part of their daily commute (dodging 'naked' cowboys and shaggy Sesame Street characters) has felt sufficiently defeated err tamed.

And yet, there is a certain magic to this neon square in the city's first snow, or through the eyes of someone seeing it for the first time. It is this Times Square that Collective-LOK recently paid tribute to with their Valentine's Day installation 'Heart of Hearts'.

The reflective pavilion, a band of 12 ten-foot hearts, was the winner of the annual Times Square Valentine Heart Design competition. Among the design's uber-Instagrammable inspirations are works by Jeff Koons and Anish Kapoor.

'Some of the architectural themes that these precedents bring about for us are reflection, repetition... degrees of privacy and publicity,' says William O'Brien Jr (Rome Prize Fellowship in Architecture winner, and Associate Professor in the MIT Department of Architecture) who leads the designcollective along with Michael Kubo and Jon Lott.

He adds that 'the connotations to the sacred' of the ring shape are inherent (despite whatever urban profanity occurs around it.)

What set this design apart in the competition was the ability to create intimate spaces while still being open. Every second heart in the ring was four-sided, creating a shield within the chaos to capture a kiss – or maybe just that perfect selfie.